No matter where you are from, your dreams are valid
By Gidraf Orenja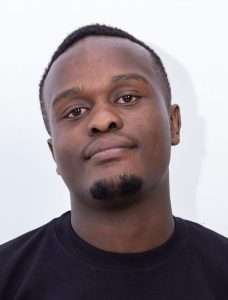 I was born and raised in a small village called Mitume located approximately 1KM away from Kitale town Trans-Nzoia County. I am the last born in a family of six. Just like many youths in Africa, I never reached far in my education. I went to a public school which is near our home known as Tuwan primary School to get the primary level of education. I did the KCPE at the same school and got good grades. I was called to Njoro boys high school, but since we didn't have money, I joined a nearby county-level school called St Columbans secondary school.
My love for technology started at the age of twelve when I saw and played a video game on my way to school. Everything changed because, before that, I wanted to be a doctor. Since then, I loved and wanted to play video games, but we didn't have one at home, we used to even beg for food, I couldn't afford it. I had to use half of the money I was given for lunch to play video games, I used to be given 10 shillings for lunch and I would use 5 shillings for lunch and the other 5 shillings I would use for video games. At this point, I didn't know anything about computers.
At the age of thirteen, I had to look for other means to get money since I wanted to play video games and using my lunch money only made me starve. I couldn't get cash from my parents neither could I be employed. The only way out was to collect scrap metal and sell them. I collected scrap metals and sold them until I went to high school.
I first saw and touched a computer when I joined high school. I had not seen a computer before I only used to see them in books. My interest shifted to computers and the only thing I wanted was to learn and know how the computer functions and operates. The school administration couldn't allow us to interact with computers that often because we were juniors. I asked around where I could get a computer and that is how I came to learn about cybers and started spending most of my time there reading Microsoft office documentation notes and playing games. I continued collecting scrap metals to get money to go to the cyber and learn more about computers. I did this until I reached form three where we were allowed to spend more time with computers and thus there was no other reason to continue collecting scrap metals.
All this period I was learning how to use computers, and some small advanced concepts like visual basics. I didn't know how to use the internet and the internet bill was too expensive for me back then during this period.
After doing the KCSE I didn't get a grade for direct entry to university and I couldn't join any college due to financial constraints and I had to start hustling and look for a job.
The Storm
I went to Coastal part of Kenya to start hustling and earn a living. I was employed in a cyber as an attendant where I used to be paid Kshs 200/= per day. This was the first time for me to use the internet. I learned everything about the internet in my first job as a cyber attendant. I wanted to learn more so I had to find extra time for my studies.
I learned most of the things about the command prompt and terminal in this cyber job.
I worked as a cyber attendant for 3 years after finishing my form four and during this period I managed to buy my laptop with the money I had managed to save.
With my laptop, I was able to learn a lot. The problem I had most was access to the internet, so I went to one of my previous employers in Coast and we agreed I will be using the internet in exchange of assisting him with the work in the cyber. I used to walk from Maweni Mtwapa Kilifi around Coba Cabana beach area to Shanzu Mombasa to get the internet, I can't approximate the distance but it's a long-distance to walk every day but given the fact that coding was my passion, the distance was not a problem. I had a longing to get there every day and do the things that I love.
I met a friend while working in that cyber who recommended me to Udacity. I joined Udacity and applied to one of their free courses which were android development beginner track. As I continued to study in Udacity, I received an email from ALC scholarship, I didn't know anything about Andela up to that point. I applied for the scholarship and I was selected. When I was doing the ALC course, my learning Facilitator told me about Andela and the fellowship program. I did some research about Andela and applied for the fellowship with little hope and expectations since I didn't have a degree or diploma.
After about 2–3 weeks of application, I was called for an interview in Andela offices, but I didn't have the money for transport and accommodation. My mum took a loan of Kshs 10,000 and use our only plot as the security so that I could get transport and some money to use while in Nairobi.
The boot camp challenge was so hard but I am grateful I made it to Andela.
Indeed brilliance is evenly distributed but the opportunity is not.
My name is Gidraf Orenja and I am a software engineer in Andela.
Some of my works are:
Learning Management App (LMA)LMA site
I was struggling to keep myself up to speed with new tools and skills that come up every day, during my free time I decided to build LMA so that it can help me to manage my studies well.
LMA can also help anyone to manage their learning/studies. Feel free to create an account and share if you like it.
Android Audio player:
One of the apps I always wanted to build was an audio player, so during my free time, I developed a simple app to play audio on Android phones. The app is live on play store and can be downloaded here, G player.
Andela way publication:
Since I struggled so hard to learn how to code because I didn't have access to a computer and internet, I did some research and created a nice tutorial to assist aspiring coder to start coding with their phones. The article was published on Andela Way and can be found here.
Always remember that your dreams are valid.