There are so many ways to make money online; In this article, I am going to share with you some tips on how to make money trading Boom 300. Before we continue, PLEASE note that making money from trading, involves understanding of market structure, control of your emotion, risk management and a great deal of psychology.
Learn the Secret of Forex Trading, Click here to download a free e-book now
What is Boom 300?
Before we explore how to make money trading Boom 300, let me explain what Boom 300 is. Boom 300 is one of the synthetic indices found only on Deriv.com platform. On default, Boom 300 is on a sell with spikes (buy) occurring at interval depending on many market factors.
How to Make Money Trading Boom 300
Don't be left out  click here to open a free demo now
One mistakes most newbies that trade Boom and Crash make is that, they don't care to understand market trend before placing any trade. Once they open a chart and see an asset on a sell or a buy, they will just jump on the buy or sell without caring to understand the direction of the market or why the asset is selling or buying at that set time.
Having say that, you can make money from Boom 300 in just two ways:
Selling Boom 300 when it's on a downtrend
Buying Boom 300 when it's on an Uptrend
Selling B300 when it's on a downtrend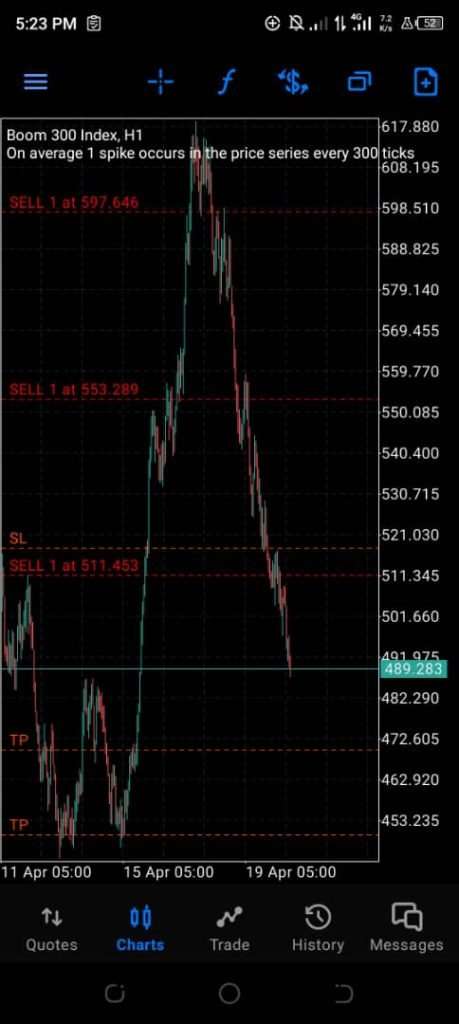 As stated earlier, Boom 300 is always on a default sell with spikes occurring at interval; so there is always that curiosity with newbies to just jump in and sell Boom 300. Most of them do this to get quick profit even without looking at the market direction. Trading like this has lead to so many blown account and even encourage most people to see forex as a scam.
So when do you sell Boom 300?
To make Money from Boom 300, you need to know when to sell it and how to sell it. I am going to be very brief on this. The first thing you need to do is to understand price action. If you are a new or a struggling trader, you can read our in-depth article on price action by clicking here.
This is how I analyze and take short (sell) position on B300. The analysis of B300 below is on Trading View.
As shown above, I used the 4 hour timeframe and I watch the reaction of price at the previous high to see if it will break up. The reaction of price at my POINT OF INTEREST (POI) encourage me to place a sell, I put a tight stop loss. For the trade above, my take profit was at the previous low that produced the previous high which act as my POI.
In summary:
Mark your Higher High (HH) and Lower Low (LL) on the chart as your POI
Wait for price to get to your POI
Then watch the reaction of the price at your POI before taking any decision
When do you Buy Boom 300?
In selling Boom 300, you are monitoring the reaction of price at higher high (HH), but in buying Boom 300 you are monitoring price reaction at Lower Low (LL).
The process is the same, if there is a price rejection at LL, then there is a great possibility of a buy, you can use the long position tool to set your entry and stop loss. If there is no price rejection, then there will be a sell continuation, if you were not on the sell at the initial stage, it always good to stay off the market and wait till it gets to the next LL, then you monitor price reaction before taking a decision.
In summary
Wait for price to get to LL (your POI)
Watch price action at that point, if there is a rejection, then the buy possibility is high, if there is no price rejection, then the possibility of sell continuation is high.
Always remember that the chart is your friend. I am available to answer your question, just drop them as a comment below.
Disclaimer
Trading Forex is risky, you can lose your capital, please apply proper risk management and trade with only what you can afford to lose