Healthy Native African Foods can contributes significantly to your health.  This is very important because junk foods are treacherous to the body system.
There are many exceptional foods with delectable taste from the African continent that are body-builder and energy-giving. Most of these Africa dishes have been served on menus in different food courts across the globe, which shows how nutritious African foods are.
Below are the Top 30 Native African Foods and their country of origination
Top 30 Native African Foods and their country of origination
1. Waakye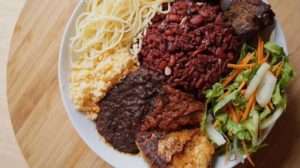 Waakye is a Ghanian food of rice and beans specially served for breakfast and lunch.
2. Foutou
This is a Cote D'Ivoire originated food that is easy to prepare. Boiled plantain and pounded served with delicious soup to compliment it.
3. Mufete
Mufete is an Angola dish made with grilled tilapia fish coupled with boiled plantain, beans, cassava, and sweet potato.
4. Kifto
Kifto is commonly found in Ethiopia. This is a condiment of fresh beef food that is spiced with conventional Ethiopian spices.
5. Setswana
This dish originated in Botswana, and it is commonly prepared with pummeled goat and beef.
6. Egusi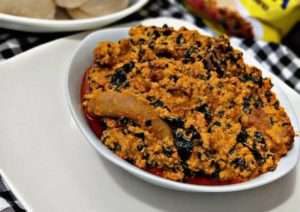 This sumptuous meal is popularly found in Nigeria and Ghana. It is made of ground melon seeds coupled with assorted meat and fish and is best served with rice, yam, fufu, or other swallow foods.
7. Jollof-Rice
This is a must-try dish. It is common in Senegal, Togo, Benin, Mali, Nigeria, Sierra Leone, Gambia, Cameroon, and Ghana. This is a pleasurable and most-cherished African (West) meal prepared with rice spiced with liver and some seasonings.
8. Osaka Made
Osaka Madesu is a Congo dish prepared with cassava leaves combined with pepper, garlic onion, and beans.
9. Shito
This is a popular dish made in Ghana. It is canned spicy made with pepper and seafood like shrimps/dry fish. It is a nutritious spice for any food.
10. Rolex
Rolex is a popular Uganda breakfast dish made with eggs and vegetables.
11. Ofada Rice
Ofada rice is a popular Nigerian food originating from the Western part of the country. The meal is best served with stew and rice sometimes wrapped in banana leaf.
12. Githeri
This Kenyan dish is made with beans and corn seethed together.
13. Kachumbari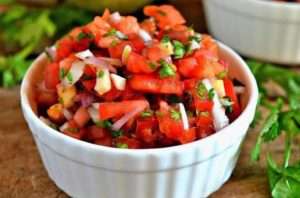 This is a popular meal found in Uganda, Burundi, Kenya, Rwanda, and Tanzania. It is regarded as salad made with smashed tomatoes, lemon, pepper, and onions.
14. Doro Wat
Doro Wat is a famous Ethiopian chicken soup made with butter combined with spiced herbs.
15. Fufu and Palm Nut
Fufu is a Ghanian commonly consumed food with palm nuts made from rich oil obtained from palm fruit.
16. Efo (vegetable)
Efo is a famous Nigerian soup prepared with vegetable leaves coupled with assorted fish and meat. It is best served with pounded yam.
17. Ndole and Plantains
Ndole is a Cameroon food prepared with stewed nuts, bitter leaves, and spinach.
18. Tajine
Tajine is a Morocco soup cooked with meat and vegetables.
19. Nyama Choma
Nyama is one of the delectable and most-cherished meals in Kenya made with grilled meats.
20. Cachupa
This is a Cape Verde soup made with sweet potato, beans, peas, carrots, corn, and meat or fish.
21. Agege Bread with Ewa Agoyin
Ewa Agoyin is a popular Nigerian meal made with boiled beans and sauce.
22. Moi Moi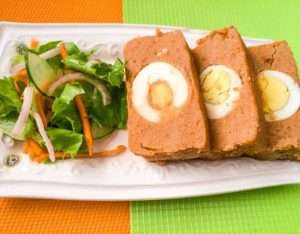 Moi-Moi is a Nigerian meal made with beans, onion, and pepper all ground together. It is wrapped in a leaf or dished in a gelatin-like cup. Compliment it with fish or meat.
23. Chebaka (Morocco)
Chewbacca is a Moroccan pastry popularly made during the fasting period.
24. Roosterkoek (South African)
Traditional South African bread is made with flour, yeast, salt, oil, water, and sugar.
25. Ugali (Tanzania)
Ugali is a Tanzanian meal prepared with cooked white maize.
26. Bunny Chow (South Africa)
This is a famous South African meal. This fast food consists of a hollowed-out loaf of white bread jam-packed with curry. Its origin is Indian South African of Durban.
27. Kushari (Egypt)
Kushari is one of the most-consumed meals in Egypt given different names but popularly known as Kushari. It consists of lentils, rice, and pasta.
28. Brik (Tunisia)
This is a popular Tunisia food made with various ingredients. It is best fried and made with egg.
29. Bobotie (South Africa)
Bobotie is a South African meal made with ground beef or lamb spiced up with seasonings.
30. Pastilla (Morocco)
A Morocco invented meal prepared with meat, cinnamon, almonds, and eggs ground together.
These are foods barely eaten in Africa but highly nutritious. They are mouth-watering meals that provide adequate nutrients needed by the body system to improve growth. Meanwhile, it is best to avoid excess consumption.
Author bio.
E-mail: [email protected]
Instagram handle: @d.wariss