Africa, in recent years, has been growing exponentially in its engagement in the Forex business. The foreign exchange market, however, is thought to be a male-oriented environment. You get shocked when you realize that this bias is a pure lie. The foreign exchange market is female. Women out here run the foreign streets. Warwick business school has a statistical illustration of women outdoing men in the Forex market by 1.8%. One of these women is Nelisiwe Masango. An enigma in the African Forex market. A successful female African Forex trader.
Who is Nelisiwe Masango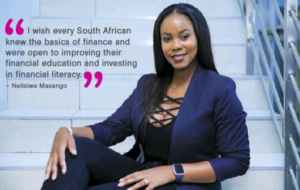 Image: PressReader.com
Nelisiwe Masango is an entrepreneur and an award-winning female forex trader. The mantra of her successful errands is to ensure that people, more specifically women, win financial freedom through trading and investing.
Nelisiwe is the CEO and founder of Bear Run investments. Its main objective is to help the community access affordable finance programs and packages that stimulate financial growth. Bear Run is an investment training company.
Bear run has a subsidiary, FeFine, which denotes females with finance. It is an organization that empowers girls to have independent financial plans.
Neli grew up in Boksburg, the suburbs located east of Johannesburg, South Africa.
Her career
Her career starts at Broksburg high school. She started a dance school after completing high school.
Later on, Masango joined the university for a Bachelor of Commerce degree in Entrepreneurial management. She called it quits at the first year of study and ventured into the foreign exchange market.
In 2013, she started the Bear Run investment company. She believes that a person's success factor lies in his mentality towards finance.
Nelisiwe Masango's awards
Frost & Sullivan. African Growth, Innovation, and Leadership Award.
Forex Tips From Nelisiwe Masango
Confidence.
Confidence will help you market your business greatly. Important decisions and even presentations are made out of confidence. Confidence is vital for any person aspiring to be successful. It helps your communication be clear. This makes it easy to communicate your ideas both internally and externally in an organization.
"The biggest mistake I made in the infancy stages of Bear Run Investments was being timid and shying away from all forms of media by attempting to build a business behind the scenes. Traditional media, as well as certain social media platforms, are powerful tools to reach the masses and gain the trust of your audience. The world is constantly evolving and social media plays a significant role in shaping the entrepreneurial space, therefore, all companies need to adapt and implement digital marketing," Nelisiwe Masango.
Motivation.
Motivation involves the biological, emotional, social, and cognitive forces that activate your interests and willingness to do business. Nelisiwe Masango urges us to be motivated in every business we undertake. As a Forex trader, Losses should not induce fear in investing more. Keep in mind that bigger risks come hand-in-hand with bigger awards.
Passion.
Nelisiwe Masango insists that passion is paramount to profits. Passion will help you as a trader be more persistent in the Forex market. "Being passionate about what you do is important, especially as an entrepreneur. Most days are better than some, so it is of paramount importance to put your passion before profits and remember why you started this journey. My father taught me to persevere in everything that I do, be it big or small. Starting strong means nothing if you are not going to finish even stronger," Nelisiwe Masango on passion as a tip for your forex success.
Believing.
Nelisiwe Masango was an entrepreneur even before she could become one. She believed entrepreneurship was born in her. In an attempt to pursue Finance, Neli dropped  Abandoning studies, and fully jumping into the forex market was an act of bravery. Believe in your choices and predictions as an investor.
 Literacy.
"I personally feel that education, on all levels, is required to build a sustainable global economy. The late Nelson Mandela put it best when he said: 'Education is the most powerful weapon which you can use to change the world.' By building a leading training company, we can empower individuals through education as well as uplift the community and those who were previously disadvantaged, through learnerships." Nelisiwe Masango on press reader.
Neli recognized the lack of financial literacy in her fellow countrymen. This formed the basis of establishing Bear Run, a firm that educates people on finance and investments.
Saving.
"We spend a significant amount of time working towards making money, and we do not focus enough of our attention on keeping that money. As a nation, we need to address these issues from within our households and communities."
Having a monthly budget and saving the little money we have should be a priority. Holding cash puts you in a strategic position of investing more.
Final Thoughts.
Nelisiwe Masango is not focussing on women and helping create feminine stereotypes. Her company, Bear Run, strives to provide financial and investment knowledge for the South African community. She has worked to ensure women receive a platform for learning from one another and nurturing themselves financially. Thanks to the Fefine.
Nelisiwe Masango also owns the Gentle Hands Agency. This is a recruitment agency aimed at providing job opportunities.