One of the reasons many traders stick to the traditional lifestyle of scalping or intraday trading is due to the numerous fees that come with trading the financial markets. These fees come often and in various forms, such as Broker's commission, Spread and Swap. Although the first two trading charges are inevitable, the swap can be avoided when a trader does not allow his open position to run into a new trading day. In this article, we will look at how to open a Deriv Swap free Trading Account
Learn the Secret of Forex Trading, Click here to download a free e-book now
How to Open a Deriv Swap Free Trading Account
Swap is an overnight trading fee some traders may not be aware of. Some have suffered its brunt only to learn about it much later. However, some traders chose not to give it due attention due to personal reasons. In whatever sense a trader seems to operate with, swap is real and can be both for an advantage or a disadvantage.
Swap has been defined as interest rate charges given to or taken from traders when they have overnight positions. Also, swap could be defined as rollover charges incurred due to inter-day trading. To better understand swap, let us consider this example:
Assuming a broker opens the daily trading candle by 1 AM (GMT+1). This is to imply that the trading day opens by 1 AM but closes by 12:59 AM the following day. So, if I resume my trade by 1 AM on Monday, my trading day will close by 12:59 AM on Tuesday. This is because once it gets to 1 AM on Tuesday, it is counted as a new day by my broker. Therefore, all forms of trading transactions that must be carried out should be done between Monday, 1 AM to Tuesday, 12:59 AM. Trading positions that run until Tuesday, 1 AM, will be counted as rollover or overnight trades, which may incur a certain amount of money. This money is called a swap.
Swap can be positive or negative depending on specific market characteristics such as interest rates, type of currency or asset traded and the lot size. If a trader observes that a particular currency pair has a low interest rate on the quote currency and a high interest rate on the base currency, such may experience a positive swap. Swap is positive when a trader gets credited by his Broker for the overnight trading position(s). Conversely, if the swap is negative, the account will be debited with an equivalent amount. However, over 85% of traders suffer from opposing swap positions. In such cases, a certain amount of money gets deducted from their account due to overnight trading positions (not minding if such positions are in losses or profit). When this happens, traders tend to be frustrated, especially if the open positions are numerous and with big trading lots.
Swap Free Account by Deriv.com
Deriv.com is a seasoned broker that understands the needs of traders and goes the extra mile to meet those needs. Knowing that so many traders suffer from negative swaps, Deriv.com made provisions for creating a swap free trading account under their trading platforms. This encourages active trading participation and greater involvement in financial trading exercises.
A swap free trading account can be a seasoned relief with numerous trading benefits. With a swap free trading account, a trader does not need to worry about the overnight charges he/she may incur by trading into a new day. Also, in cases where a trader's open position is in red (severe losses), he or she may decide to continue holding such positions for as long as he chooses if his/her market speculation/bias plays out over days.
In this instance, a trader can take and hold as many trades as his equity can support without fear of additional charges. Also, a swap-free account allows a trader to leverage on the market trend, which may last for days. This enables a trader to make a maximum profit without fear of sharing a percentage with the Broker. Also, it enables a trader to take multiple trading positions with varying trading lots. In addition, a trader can develop his trading character to that of a swing trader since overnight charges, which are a constant part of swing and position trading, have been addressed.
To open a swap-free account, kindly do the following:
Click here and it will take you to the page as seen ()take note of the  circled blue zone).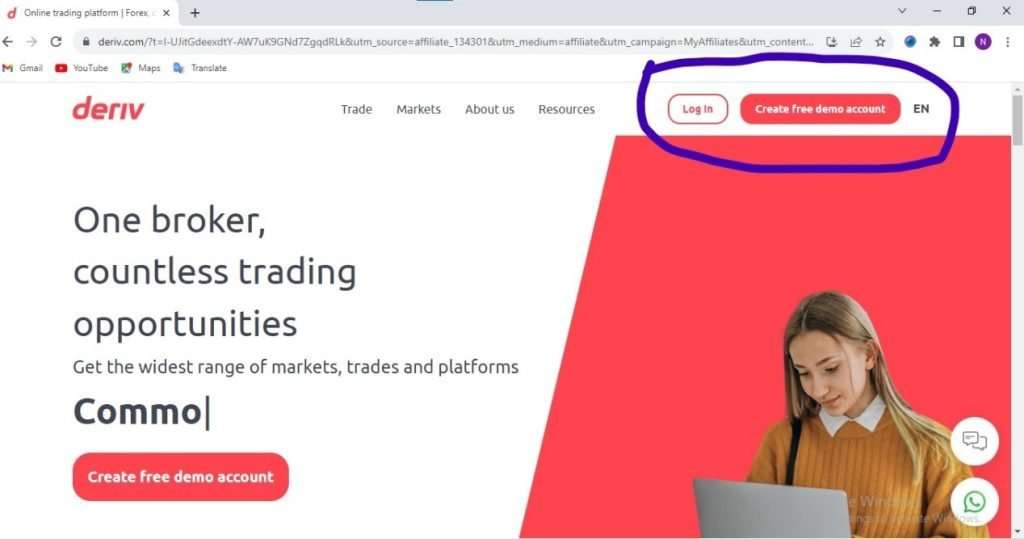 Click on the 'Create free demo account' icon to create a new account (if you do not have one) or the 'Log In icon' to sign in if you already have an existing account with Deriv.com.
For those who do not have an account with Deriv.com, kindly authenticate your email to create an account.
After login or successful creation of an account, go to the trader's hub, and under it, go to the CFD's section, where the swap-free account can be seen (use the picture below on the circled zone)

Click on the swap-free account and create your account by entering your Deriv MT5 password as shown in the picture below and then, add account.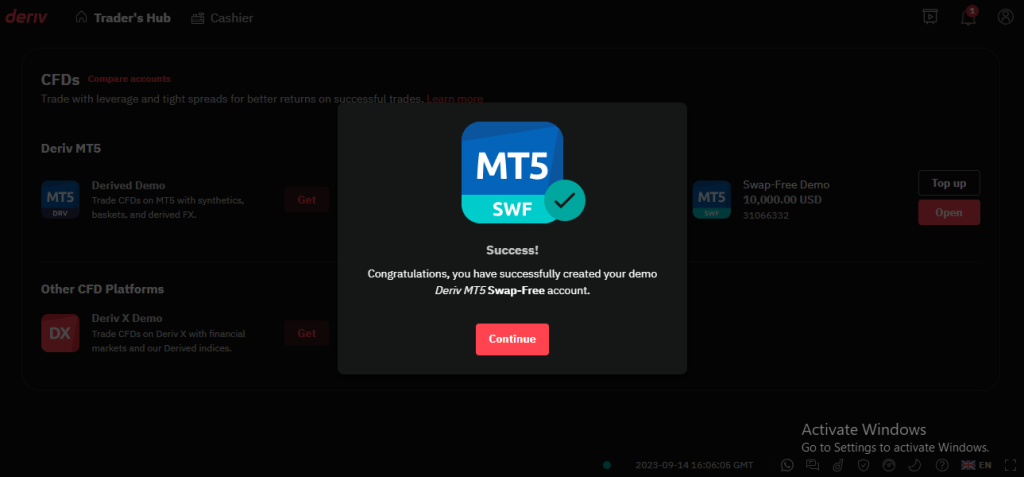 Click on the continue icon which will now take you to the icon that will reveal your MT5 details. To get there, click on the swap-free section that reads, open to find your MT5 details (your MT5 login number/ID and the type of server)
Copy the details as they are into your MT5 application (mobile or PC) and login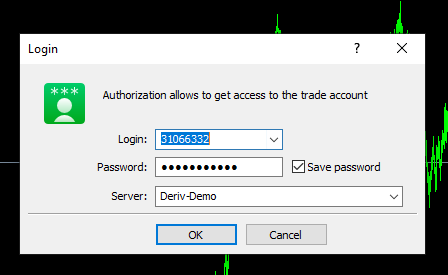 It will lead you to the page below.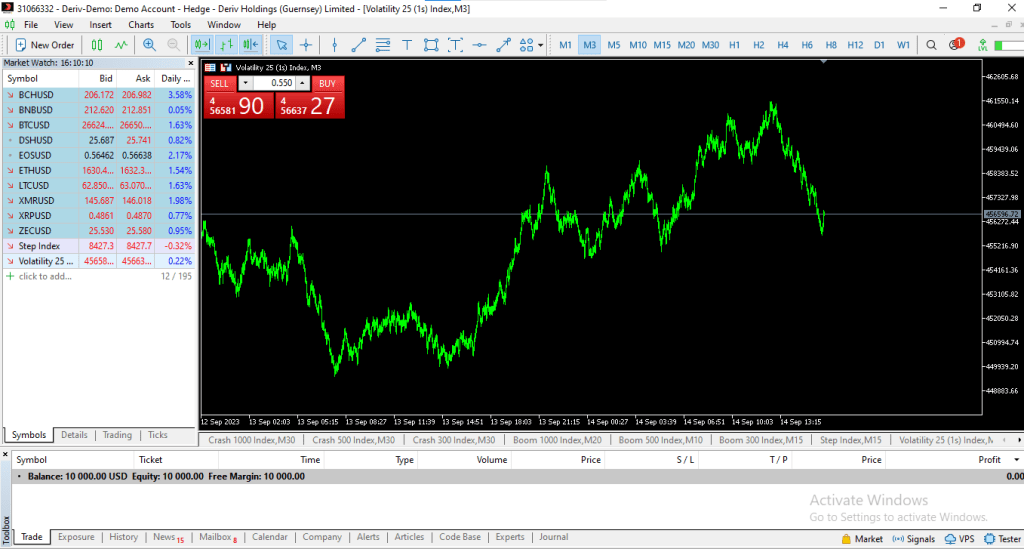 After that, you can start placing trades.
Disclaimer
Deriv offers complex derivatives, such as options and contracts for difference ("CFDs"). These products may not be suitable for all clients, and trading them puts you at risk. Please make sure that you understand the following risks before trading Deriv products: a) you may lose some or all of the money you invest in the trade, b) if your trade involves currency conversion, exchange rates will affect your profit and loss. You should never trade with borrowed money or with money that you cannot afford to lose.