How to Make Money Online in Ethiopia? There are lots of ways to earn money online in Ethiopia.
In recent times, Ethiopia has made a significant shift in its economy, the country has become one of the fastest-growing economies in Africa. This has given a boost to the economy of Ethiopia and thus has been a good opportunity for people to earn money online. With the right knowledge and resources, people can make money online.
There are many ways people can make money online in Ethiopia. People can choose to work from home using the internet, they can sell goods on Amazon, eBay, and other online marketplaces can run their website or blog, etc. An online business in Ethiopia is becoming a reality thanks to the new economy and new opportunities.
Here are some ways and tips to consider if you're thinking about starting an online business in Ethiopia or elsewhere.
1. Online Store on Marketplaces
Starting an online store in Ethiopia is still a challenge. However, Ethiopian e-commerce has been growing since 2010 and it has been increasing consistently each year.
Although e-commerce is taking off in Africa, most of the e-commerce activity is concentrated in South Africa and Egypt. The growth rate in Africa is much lower compared to the developed markets. This is because Africa is still struggling to develop infrastructure and logistics networks. In addition, the lack of access to payment systems, secure e-transactions, and online payment channels is hindering the adoption of online shopping.
Ethiopia is taking advantage of this lacking market. From selling products on local store apps to the Facebook marketplace, many are selling new and used products and making money.
It was a general estimation in 2017 that only a third of Ethiopians had a bank account. Even fewer have credit cards. As such, most people don't have any way to pay for purchases online. That means online retailers in Ethiopia must operate on cash only or mobile bank transfers. The local store apps narrowed the gap. Instead of online transactions, many Ethiopians use these platforms to find products and directly call and contact sellers.
Some of the notable sites where you can sell your products are google marketplace, Qefira, Afrotie, and Amazon.
How to Make Money Online in Ethiopia from online stores
Start by finding products that local Ethiopians are looking for. This could be as small as socks to as big as vehicles. Then find the appropriate platform and post your Ad for free or for a small posting fee. Then wait until buyers message you. Once you find the right buyer, you can proceed to negotiate in person or on the phone. For a successful online store, you need good branding and a contact address.
2. YouTube Channels 
In 2022, Ethiopia saw a massive surge in YouTube activity. More than 30% of its population is online. YouTube is currently one of the top 5 video platforms in Africa, with more than billions of views daily. With growth like this, it was no surprise to see more and more YouTubers earning money from their YouTube Channel.

Image: Social Media Stats in Ethiopia- source
Many Ethiopian YouTubers make hundreds and thousands of dollars every month from their YouTube channels. Some of the channels are entertainment and others are on policies, hacks, tips and news. The challenge is that the PPC-Pay Per Click in Ethiopia is much low compared to countries that advertising companies call first-tier countries such as the US.
Even with this limitation many entertainers and content creators make thousands of dollars every month. Local companies are also happy to collaborate with good content creators.
How to Make Money Online in Ethiopia from YouTube 
Here are a few of the main options for making money from YouTube, and how they differ from one another: Advertisement-based monetization is the easiest method, as it involves ads appearing alongside your videos.
The second category of strategies for earning money on YouTube consists of advertising and sponsorship deals. These are all about generating revenue by selling your brand to advertisers.
3. Freelancing
Many Ethiopian graphic designers, developers, and content writers are making hundreds of dollars by working on freelancing websites such as Fiverr, Upwork and freelancer. Some of these freelancers make from 10 dollars to 50 dollars an hour.
A large number of graduating students and young employees in the country are looking for somewhere else than what the local job market offers them. Some of them are highly intelligent and are delivering international standard quality solutions. Many of these Ethiopian freelancers work on local language translation, SEO, content writing, and web development.
How to Make Money Online in Ethiopia from Freelancing
When it comes to being a freelancer, most of us tend to assume that we should always have a website, a social media presence, and a portfolio of our work on hand. While all three of these things are certainly valuable, the reality is that it's easier to start making money online without any of them.
There's no need for you to have a website if you're only selling things locally, for example. The fact is that all you need to start a profitable online freelance business is a computer with internet access and some basic knowledge of how to market yourself. There are tons of sites that pay freelancers a good amount of money every month, like Upwork.com, PeoplePerHour.com, and Elance.com.
4. Apps
Making apps is not a new trend in Ethiopia. Some apps have thousands of users. The most known niches are news, religion, and education. Especially in the education area, some of these apps used a subscription model engrossing thousands of dollars.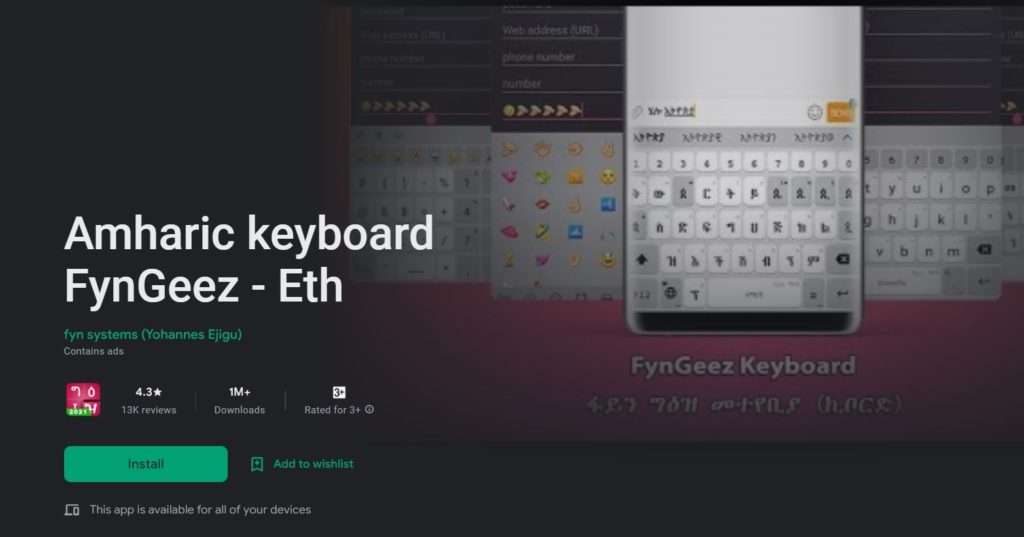 Image: Amharic keyboard FynGeez, Source
The most notable Ethiopian apps took advantage of the local unique calendar system and created the Ethiopian version. Others created Ethiopian Amharic scripts. The top five Ethiopian apps on Appstore are the Amharic dictionary, Amharic keyboards, and the Amharic calendar.
FynGeez app has more than a million downloads.
How to Make Money Online in Ethiopia from Apps
To be a profitable app developer, you may need to see trends and gaps. What are the Ethiopians looking for on their phones and what is the gap in the market? Don't reinvent the wheel. Instead, clone apps that already exist on app stores for your market, in your language, and way of life.
Some of the ideas for Ethiopia are apps with movies in one place, apps that teach health, apps for pregnant women in a local language, apps for elementary students, and much more.
5. Telegram
Telegram has a large user base in Ethiopia than other comparable apps for its ease of use and requiring low data. Telegram offers a great way to promote your products and services to a large audience.
Many Ethiopians use the app to communicate with their families while others took advantage of the group functionality. By forming a channel many Ethiopian entrepreneurs post products they sell. Usually, they import products from more affordable countries through dropshipping.
Few telegram channel owners have managed to acquire more than 50,000 members. They are now using their fame to sell ad spaces for other channels and brands.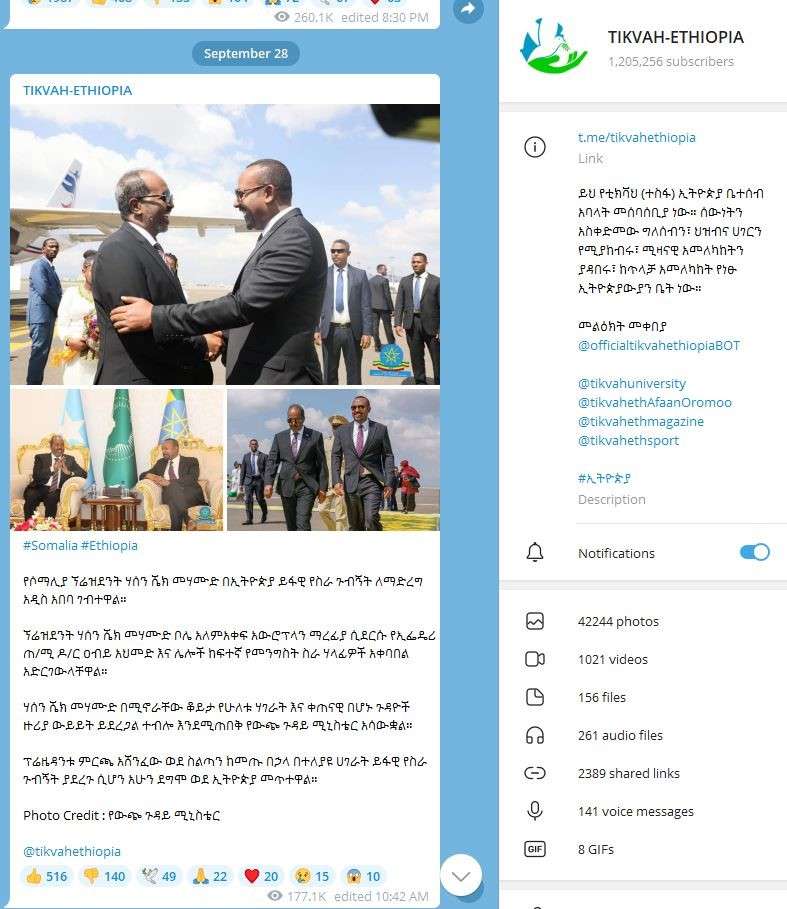 Image: One of the Tikvah telegram channel
Tikvah is one example where it makes hundreds of dollars from selling ad space.
How to Make Money Online in Ethiopia from Telegram
You don't have to have thousands of members to make money from Telegram. Start by creating your channel. Create some content before you invite others to your group. Now you can invite relevant people from your contact list. Then encourage them to invite others. As your subscription grows, contact known brands and other small channels for advertisement.
Final thoughts: How to Make Money Online in Ethiopia 
In conclusion, if you are looking for a legit way to earn money online, and you live in Ethiopia, you have a great opportunity to do so. With millions of users, there are endless ways you can earn a living online. If you are willing to learn and willing to put in the time, you can make a full-time income from home. If you don't want to work for someone else, there is a myriad of ways you can start your own online business. Start now and see how it goes.