Hello Zambia, I am Lusaka your Capital city, did you miss me? Did you miss the sounds of rhumba, kwela, hip hob, or RnB that greet you and calm down your nerves when you visit me at Night? Did you miss Mama Peggy, my friend who enjoys selling Tomatoes at my doorsteps?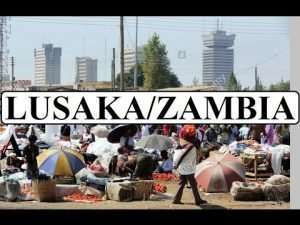 I know the Lock-down has disconnected you from the good life and experiences I present to you everyday, trust me, I feel the pains too, but what can we do? they say Covid-19 is roaming all over my streets, you don't have to believe them, but you have to stay indoors and be safe just for my sake.
I know the uphill battle of surviving during this time can be very hard, like Mama Peggy will say "Business yanga nipeza chabe slow slow kaili so chabe muntu apita wagulisakoso so chabe . Nimagulisa on a daily basis, napa ma weekends yonse" but you will survive, you will come out strong and dance with me because I miss you dearly.
Yes, we will dance together, because I am Lusaka your honeycomb, your economic sanctuary and the store house of your national treasure, I know you can't survive without me. Your President, elected officials, business and religious leaders has enjoyed my hospitality and security for many decades.
I gave some of my rooms to the University of Zambia, Cavendish University, the Chinese International School, Rhodes Park School, DMI-St. Eugene University, Lusaka Islamic Cultural and Educational Foundation, Chainama Hills College, Zambian Open University, the French International School, the Italian international School, Lusaka Russian Embassy School, Zambia Centre for Accountancy Studies University, Baobab College, National Institute of Public Administration, Evelyn Hone College, etc in exchange for your education, yes, I love you sincerely.
I am the melting pot of over 70 local tribe, you can call me 'Unity in Diversity' I don't discriminate. I am the voice of fruit-sellers, fishmongers, hairdressers, restaurants, motor spares dealers, Students, etc so, I feel your pain, I have seen your tears, please stay safe for me, we will survive this.
Hello World, I am Lusaka, the city of your dream, I know you will love to visit me, I have a lot to show you, we can start from the National Park or Lilayi Elephant Nursery then proceed to the Cathedral of Holy Cross, National Museum, Victoria fall, Kalimba Reptile Park, Nembo Scenic Park,  and Chaminuka Game Reserve. If you stay a little longer, we could visit the Sunday Craft Market and Pakati Sunday Market.
Please stay safe. I am here for you.