Christian Okoye was born in Enugu, Nigeria and started his career in Azusa, California where he was drafted by the Kansas City Chiefs in the second round of the 1987 NFL draft. He went on to play seven seasons with the Chiefs before retiring in 1992.
But what made Christian Okoye special? What made him so successful? And how did he overcome all odds to achieve success in a sport dominated by white men? Let's take a look at his life and find out why Christian Okoye became one of the most accomplished African football players of all time.
Who is Christian Okoye?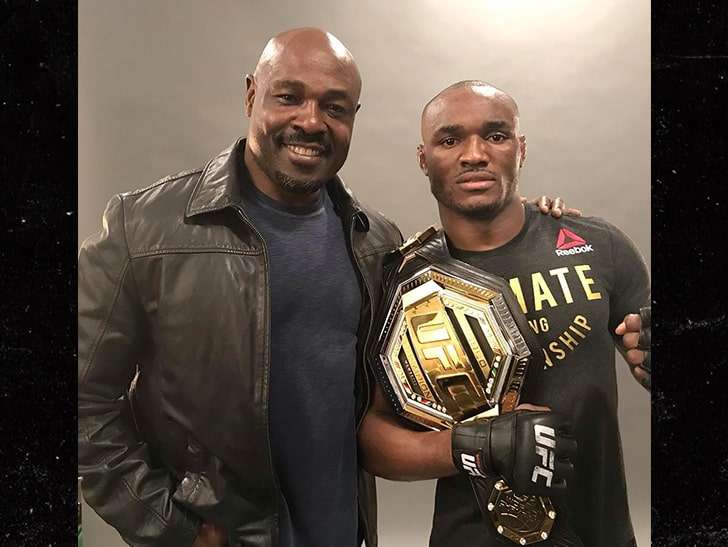 Christian Okoye is a Nigerian-born American football player who played for the NFL team, the Kansas City Chiefs. He was known for being one of the first African football players to become a superstar in the league. Christian Okoye had natural talent and ability that defied the odds. He succeeded in a sport dominated by white males; he didn't let his skin color or where he came from stop him from achieving his goals.
Early Life of Christian Okoye
Okoye was born and raised in Nigeria by Nigerian parents. He came from humble beginnings and thus didn't have much to live by, but one thing was sure while he was growing up, and that was the fact that Okoye was a big fan of soccer and loved playing the sport every time he was among his peers.
Okoye grew up as a soccer player and had no intention of playing football. And as a young boy, he didn't have the benefit of modern equipment that kids today are fortunate enough to have. He would often play with a ball made of tape and string, plastic bags filled with sand, or any locally made soccer ball just for the love of it.
Things changed when he moved to Azusa, California in 1982 after receiving a scholarship at Azusa Pacific University, where he participated in sports like shot put, discus, and the hammer and amassed 17 All-American honors in track and field and football.
At first, Okoye's dream was to represent Nigeria in the Olympics, but he was left devastated when Nigeria refused to select him to represent them. His friends encouraged him to try out football, which he declined at first. Okoye saw football as a "boring sport" and really didn't take an interest in it, but later on, when he had finally understood the dynamics of the game after persuasion from his friends, he was eager to show his enthusiasm.
He finally took on the challenge and quickly caught the eye of scouts from various colleges before deciding to go pro and entering the NFL Draft in 1987.
Okoye went undrafted but still managed to make it into the second round before finally being selected by the Kansas City Chiefs, where he went on to make history as the best African-born football player the league had ever seen.
The Talent In His Blood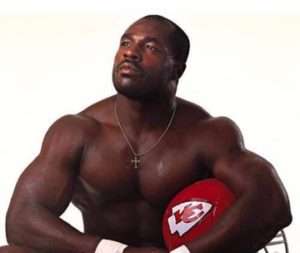 After joining the Kansas City chief, a lot of professionals were surprised by his immense abilities. His speed was astonishing for a man his size (6'1″ and 260 lb). It was because of these abilities that made his teammates nickname him "The Nigerian Nightmare," a nickname he has now passed on with his blessings to current UFC welterweight champion Kumaru Usman.
The NFL's first African-born player
Christian Okoye became the NFL's first African-born player to become a superstar. He is not only one of the best players in Chiefs history, but he is also one of the most accomplished Nigerian players in American football history. His size and speed made him one of the top defensive linemen in pro football.
The Chiefs drafted him in 1987, and he retired from football after seven years with the team. Although he never won a Super Bowl, Christian Okoye is considered one of the greatest Chiefs players of all-time.
One of his most memorable moments was against the Miami Dolphins in 1988, when he picked up the fumble and ran it 91 yards for a touchdown. But his legacy goes much deeper than that moment. Christian Okoye was also the first African-born NFL player, paving the way for other talented Africans to make it into America's favorite sport.
Making It Happen on the Field
Christian Okoye had a successful performance on the field. He was named to the Pro Bowl twice, in 1988 and 1989, before being inducted into the Chiefs Hall of Fame in 1993. His 1991 season with the Chiefs was also his best year statistically. That year, he rushed for 1,031 yards and 9 touchdowns.
It wasn't easy for Okoye. He had to work hard and overcome a lot of obstacles. But he was driven; he knew that it would take time and that the only way to be successful was to play with his heart. And it paid off.
Okoye played in two Pro Bowls (1989 and 1991). In 1989, he set the Chiefs record for most rushing yards in a season with 1,480 (a record which still stands), as well as being named second-team All-Pro twice in his seven-year career.
The Legacy of Christian Okoye
Christian Okoye is most famous for his football career with the Kansas City Chiefs, but he has also spent time building his career as a motivational speaker and life coach.
Okoye was honored with many awards in 1989, including running back of the year (101 points) and first team All-Pro. His outstanding performance that season led him to receive an MVP vote from the National Football League Players Association as the American Football Conference MVP.
Okoye is now a member of multiple Halls of Fame, including the NAIA Track And Field Hall Of Fame, the Kansas City Chiefs Ring of Fame/Hall of Fame, as well as the Senior Bowl's Hall of Fame. In 2006, Christian became President/Founder of the California Sports Hall of Fame.
Despite his illustrious career, Christian Okoye retired from football during his seventh season because of injuries. But before he left, he had already set many records that made him one of the most accomplished African football players of all time. His legacy as a successful athlete is one for us all to learn from; never give up even when life throws you challenges, because anything is possible if you keep pushing forward!
Wrapping Up
Christian Okoye's story is one of sweat, tears, and triumph. It is one of ambition, determination, and belief in oneself. It is the story of a young boy from Nigeria who grew up to become an NFL superstar.
Okoye's story is one that should inspire everyone. Okoye's journey may not have been easy, but if you work hard enough, anything is possible.