Soweto is the most hilarious name you will ever come across. There are three places named Soweto that I know. The real Soweto, Soweto slums in Kayole, Nairobi, and an entertainment joint in my locality. The name has so much power that I realized it has its own reggae song. However, if you haven't set foot in Soweto, this is a good time to plan a trip to Soweto.
For most of us Generation Z, we associate Soweto with a reggae fashion. A sense of self-esteem that comes by identifying yourself as a Rastaman, or maybe a filthy street urchin that has had a gruesome experience living in poverty.
Soweto is an inspiration to Africa. Soweto streets must be clean and dry, but deep down the soil, bloodshed under the apartheid regime still oozes. Soweto's dark underbelly is hidden by the smiling, jovial faces of the locals. Soweto is a story sang and told in four words, "Say No To Apartheid."So, I think we need to figure out why Soweto is probably the most famous Town. Keep reading to learn more.
Where is Soweto?
Soweto is a Town in the city of Johannesburg, in Gauteng South Africa. Its name comes from the phrase South Western Townships.
The History of Soweto
George Harrison and George Walker are the people who first discovered this wonderful place. There was a big gold reef on a farm called Langlaagte. It was a place of hardworking miners who searched for gold after its discovery. These miners were multiracial. They were so many.
A demographic influx meant a strain on local resources. On Langlaate's South-Eastern side, there existed a rich clay soil area that was good for brick making. The government bought land and declared it free of settlement to the miners. Landless Dutch-speaking citizens sought to live in that place. They started making bricks and soon they erected shanties. Other poor Coloreds, Indians, and Africans later joined and formed a multiracial community. Later on, the government chose to separate the multiracial community into distinct racial groups.
Soweto was then established when the white government separated Blacks from Whites. They were moved far southwestern from Langlaagte, forming numerous towns. Soweto became an official name in 1963. In 1976, it gained international recognition from the student uprising against the racially segregated modes of learning.
Soweto rose to become the largest Black city in South Africa. However, years later, it was a temporary settlement area following civil unrest brought by the fight for racial equality. Chaos came to an end in 1994 when the first multicolored election was held. Soweto's fame was evident when South Africa hosted the 2010 FIFA World Cup Finals. Tourists flocked to Soweto to learn about its history.
Why Soweto Is Famous
1.    The Soweto Uprising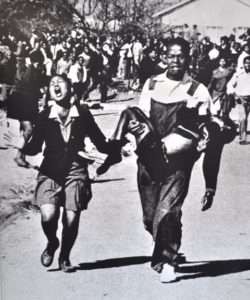 Photo: Hector Pieterson, being carried by Mbuyisa Makhubo.
Education is paramount, that was the principle for African kids in Soweto. Their learning was poor. They were taught in the Afrikaans language. This denied them an opportunity to learn sciences and math. They were taught clerical jobs such as washing, carpentry among many others. They had fear of being enslaved, as it had happened in the struggle and partition of Africa.
The same process had happened to their parents years before. The kids had a motive to end the cycle of enslaving Africans in the name of providing employment to their clerical skills. They demanded fairness in the education system. They, therefore, went to a hall pretending to be reading and drafted a memorandum. They later on planned for a peaceful demonstration, matching from Naledi High School to Orlando Stadium.
Police opened fire on the demonstrating students. 23 people lost their lives, 21 being black students. The youngest of them was Hector Pieterson. The Soweto demonstrations resonated across the country and beyond the world. Later on, economic and cultural sanctions were imposed from abroad. Political activists fled the nation to train for guerrilla warfare. Soweto and neighboring townships were used as a staging ground for violent governmental repression. Up to date,  the pupils have been remembered by the International Day of the African Child.
2.    Vilakazi Street, home to Two Nobel-price Winners.
Nelson Mandela and Desmond Tutu come from  Soweto's Vilakazi Street. The coincidence is an insult to many Africa's proverbs that say "Two bulls can't stay in the same kraal." Vilakazi Street is also where Hector Pieterson was shot dead. The rest of the street has an average population of people who earn a decent living from work.
3.    The Orlando Power Station
Orlando's power station was fully constructed in 1955 to serve the electricity needs of Johannesburg at that time. It was a geothermal power plant situated near cool water sources. It was later decommissioned, living it to mural artists, bungee Jump enthusiasts, movie actors, and advertisers. It is a landmark that makes Soweto visible from far.
Conclusion
I really hope you enjoyed knowing Soweto. To me, the city is the cradle of the fight against racial discrimination. It is a place worth visiting as it has a memorial center in respect to the Uprising. It is also home to Inspiring figureheads Mandela and Desmond Tutu.