The importance of relaxation and leisure can never be over-emphasized. From bunch of tight schedules, to urban jungle filled with noise and pollutions, to the regrets of unattained personal ambitions, to intense pressures, to sheer boredom…and what have you; life is indeed stressful. Tourism serves as an impeccable means of easing ourselves from these hassles and bustles. Away from being a means of relaxation and getting refreshed, tourism also provides us with a great opportunity to learn. Little wonder the old cliché, "The world is a book, and those who do not travel read only one page"
That said, when it comes to tourism, Africa is a force to reckon with. There are numerous tourist attractions dotting virtually every country of the continent. Think of stunning mountains and catchy hilly areas, beautifully constructed huts, eye-catching sceneries, comfy parks, mysterious museums and monuments, ancient caves, sparkling natural swimming pools, different species of birds and wild animals; the continent has got them all in abundance. Nigeria, Africa's largest nation, is a shining example of this exotic beauty. So, in this article, we will showcase top ten tourist destinations in Nigeria. You will definitely find a place of interest. Let's take a tour:
Top Ten Tourist Destinations in Nigeria
In no particular order, here are the top ten tourist destination in Nigeria
1. The Obudu Mountain Resort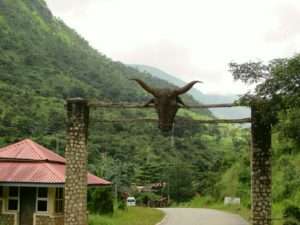 Formerly known as Obudu Cattle Ranch, the Obudu Mountain Resort is located at Obudu, a village in Cross River state, Nigeria. Amazing is the simplest word to describe the splendor of this resort. Its beaches, Water Park, forests, rock formations, rolling hills and valleys, canopy walks, cable cars, delightful scenery of green mountain ranges, top-notch accommodation, and hospitality will blow your mind. The resort opens throughout the year; however, the best time to visit is usually during the dry season (normally between October and March) when the weather is most amazing. The resort is one of the top tourist destinations in Nigeria and definitely a place to visit if you would love to experience the beauty of nature and get an unforgettable memory of leisure.
2. Yankari National Park (Yankari Game Reserve)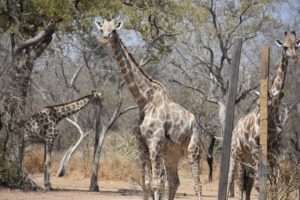 If you would love to see in real life, those lovely or scary animals you see in movies, the Yankari Game Reserve has got you covered. The park will likely remind you of Kenya, Tanzania, Uganda, and Namibian safari as you observe wild animals in their natural habitat.
Yankari National Park is a 2244-sq. km. wildlife park located in the Bauchi State, Nigeria. It was opened to the public in 1962 initially as a game reserve, and then it was converted later into a national park. It was named the country's biggest national park in 1991. The park boasts of over 50 species of wild animals, including elephants, lions, hippopotamuses, wild buffaloes, baboons, monkeys, antelopes, Gorillas, Crocodiles birds, etc. Aside from being a wildlife reserve, it also has warm and cold water springs (including the famous Wikki Warm Spring), amazing greenery trees, some caves, and also a mini-museum that will enrich you with a little bit of history in Bauchi people and Nigeria in general.
What's more? If you love networking, visiting the park will give you ample opportunity to meet different tourists from far away Germany, United States, United Kingdom, Italy, Australia, and many more.
3. Lekki conservation center
Ever heard of the longest canopy walkway in Africa? Aside from having the opportunity to enjoy nature, relax, and see various amazing animals, exotic birds, and plants, tourists at the Lekki Conservation center will also get to experience the longest canopy bridge walk in Africa situated there.
The Lekki Conservation Centre, popularly known as (LCC), is a 78-hectare (190-acre) natural resource conservation in Lekki, Lagos State Nigeria. It was founded in 1990 by the Nigerian Conservation to serve as a biodiversity conservation icon and environment education center in Nigeria and also to serve as a tourist destination. It is endowed with impressive vegetation, various species of animals, reptiles, and birds. Its much-talked-about canopy walkway features six towers that rise over 22 feet each and about 401-meter long.
4. Oshun-Osogbo Sacred Grove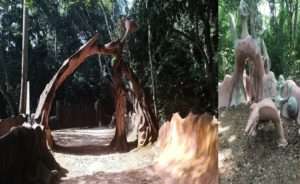 If you love African artifacts, tradition, and culture, the Oshun-Osogbo Sacred Grove is your go-to destination. The Oshun-Osogbo Sacred Grove is located in Osogbo, Osun State, Nigeria. The groove is one of the UNESCO World Heritage Centre (WHC) in Nigeria. It has a very beautiful and absolutely serene environment decorated with shrines, paintings, sculptures, and works of art. There are also host of local foods and drinks for tourists to enjoy.
5. Abuja Arts and Crafts Village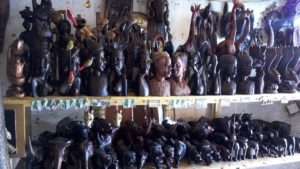 The Abuja Arts and Crafts Village is unarguably one of the top ten tourist destinations in Nigeria. Situated in Nigeria's capital territory, Abuja, the Arts and Crafts Village is the biggest artifact hub in West Africa. It is endowed with all sorts of stunning arts, crafts, souvenirs, jewelry, and other indigenous handmade designs that would leave you enthralled. And yes, you can buy as many arts as you want at a very affordable price.  Visiting Abuja soon? Don't miss the Abuja Arts and Crafts Village!
6. Zuma Rock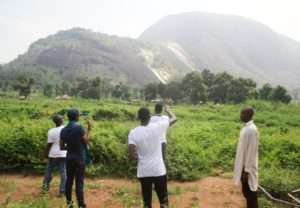 Zuma Rock is a natural monument located in Abuja, Nigeria, Standing at about 300 meters (980 feet) above the ground.  In the 15th century, the rock was found by the Zuba people of Niger State, who named it zumwa, meaning "a place of guinea fowls" given many guinea fowls found around there. The Zuba believed that the site was a sacred, supernatural rock and made offerings at its base. They also used it as a defensive position to safeguard them from their enemies.  It is one of the highest and largest monoliths in the world. One of the activities that have become popular in this destination is rock climbing. For people who aren't afraid of heights and enjoy being high in the air, climbing the Zuma rock is an exhilarating way to see Abuja's eco-friendly side. Although it takes about four to five hours of climbing to reach the top of the rock, however; once you reach it, you are rewarded with a bird's-eye view of the city, and you will realize it was worth all the trouble.
7. Calabar Carnival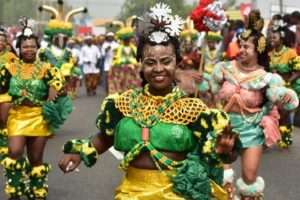 Succinctly described as 'the pride of Nigeria', Calabar Carnival is the largest tourism festival in Africa and the second biggest in the world, that brings together over two million people from across West Africa and beyond. The Battle of the Bands and Street Parade are highlights of the month-long celebration. The mega event holds every 1st December and lasts until 31st December in the city of Calabar, Cross River State, Nigeria.  The carnival features musical performances, fashion shows, solidarity march, street parties, parades, sports, food competitions, beauty pageant, and hosts of other activities that keep the eyes busy while elevating the soul.  If you want to enjoy tourism festival, Calabar is one of the tourist destinations in Nigeria that should be in your list.
8. Elegushi Beach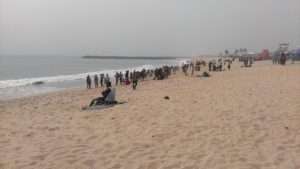 Situated in Lekki, Lagos state, Elegushi beach is one of the finest beaches in Nigeria. Attending a party or event, Elegushi Beach guarantees a memorable and eventful time out with friends. With its enticing atmosphere and plethora of dining, drinking, and dancing options, Elegushi Beach is the perfect locale for an unforgettable escape from your everyday routine. The sound of waves crashing onto the shoreline is a magical and soothing sight. There are also other beaches not far from Elegushi Beach.
9. Awhum waterfalls
Ohum waterfall is a jewel of a place if you want to witness the wonders of nature. Officially known as Awhum waterfalls, Ohum is situated at Amaugwe village of Awhum town in Udi Local Government Area, Enugu State, Nigeria. While walking through the valley, the winding sparkling pure water gives delightful scenery and extraordinary feeling. The waterfall is 30 meters high and is said to have healing powers and the capability of dispelling evil forces.
10. Ogbunike cave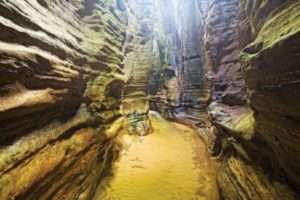 Ogbunike cave is indisputably one of the top ten tourist destinations in Nigeria. It is located at "ugwu ogba" in Ogbunike, a town in Oyi Local Government Area, Anambra State (Eastern Nigeria). The cave is one of the UNESCO World Heritage sites. It consists of a cave system with 10 tunnels and a 5m high open chamber. The site is an important spiritual place for local people.
Hold on, there is a Shocker…women who are on their menstrual period are completely prohibited from going inside the cave and no one is permitted to go inside the cave with footwear.  Every year, thousands of adventurous tourists from across the world travel to the place to see one of the wonders of nature.
These top ten tourist destinations in Nigeria are just a surface scratch of the country's enormous tourist attractions. The list is truly inexhaustible.