Africa is known for its rich nature, and the beaches surrounding Africa are equally magnificent. Four oceans surround Africa; the Mediterranean sea to the north, the Red Sea to the northeast, the Atlantic Ocean to the west, and the Indian Ocean to the east. We have featured beaches from all these oceans because each has outstanding qualities. The featured beaches are famous tourist destinations and are considerably affordable! Read on to discover our top 10 beaches in Africa.
Top 10 Beaches in Africa
1.   Mnemba Island, Tanzania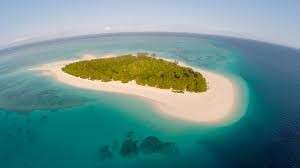 Mnemba Island is located in Tanzania, along the Indian Ocean is one of the best beach in Africa. Mnemba is a private island that forms part of the Zanzibar Archipelago, and it is a beautiful beach adorned with shiny white sand and a pine forest. Mnemba Island is triangular, and its positioning gives it an intimate ambiance.
The island is home to various marvelous marine life. Mnemba Island is a protected nesting place for green turtles; they live in the waters. Tourists can also see humpback whales, dolphins, and whale sharks.
In addition, there are different types of coral fish in case you want to go scuba diving and snorkeling. Tourists can also engage in swimming, fishing, and romantic walks along the beach. Tourists indulge in fresh-caught and gathered lobster, fruit, and fish.
The private island is operated by a luxury travel company called Andbeyond. The island only has 12 beach bandas, with each cottage having its veranda and hidden in the island's lush tropical forest. The 12 luxurious bandas can accommodate 24 guests, and celebrities often visit the area. However, it is a good destination for honeymoon and anniversary celebrations.
2.   Watamu Island, Kenya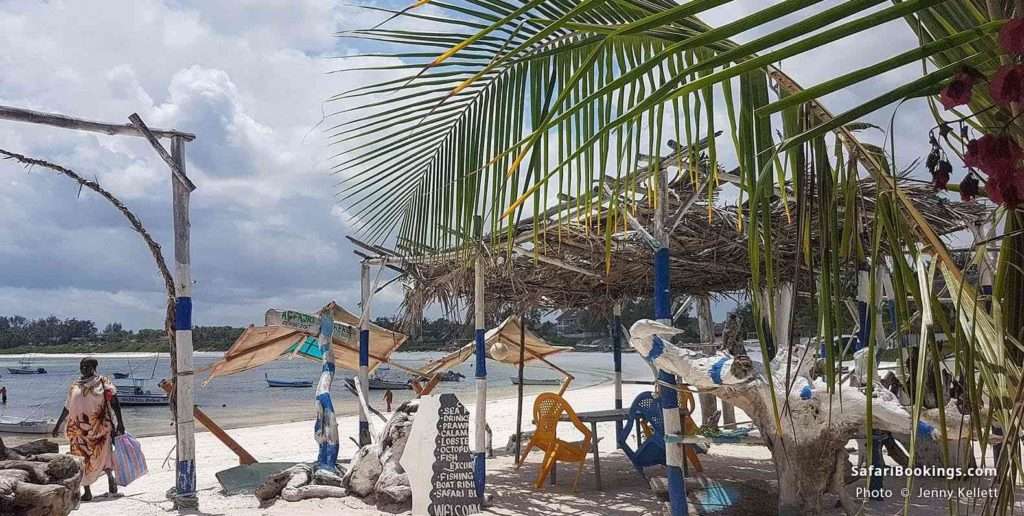 Watamu Island offers snorkeling and diving opportunities and is home to various wildlife. The Watamu National Park is a tourist attraction just 1km off the beach.
The beach is home to ove5 600 species of fish, 110 varieties of stony coral, and many species of invertebrates, mollusks, and crustaceans. Gedi Ruins is also an important historical attraction that served as a trade center. Other attractions are Mida creek and the sea turtle rehabilitation center.
Watamu stands out due to its distinctive coastline. The beach has several deserted islets, where tourists can walk to these tint islands during low tides. Watamus's white beaches have a lot of starfish and weeny hermit crabs. The beach has a lot of palm trees, and you will find houses in the bushes dating back to colonial times.
Tourists can enjoy fresh-caught octopus, prawns, snappers, and crayfish. However, Watamu remains a local village with a small capacity. There are no jet skis and paragliding, nor beach bars. The main mode of transport is dhows; they are used to go to the marine park and tuk-tuk to travel via road.
3.   Sharm el-Sheikh, Egypt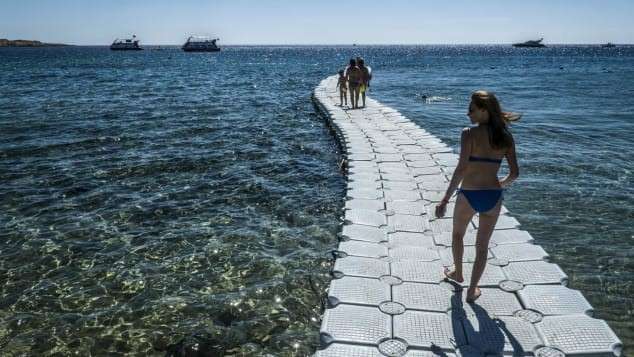 Sharm el-Sheikh started off as a fishing village; it has, however, developed into a good tourist destination. The beach attracts thousands of tourists because of sunny weather, scuba diving sites, luxurious five-star hotels, and entertainment purposes.
Sharm el-Sheikh is a long stretch of natural sand and pebbles surrounded by impeccable landscapes. The ocean is clear and calm during most of the year, and there are coral reefs and marine life for divers. Tourists can also engage in windsurfing, boating, canoeing, and parasailing.
In 2010, several shark attacks were reported; therefore, people are advised to dive, snorkel, or swim with caution.
4. Diani beach, Kenya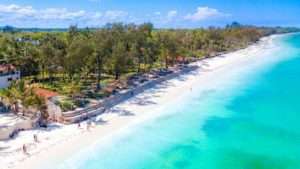 Diani has been named Africa's leading beach five times since 2015. Diani is a serene beach along the Indian ocean. Diani beach has silky white sands, warm turquoise waters, and lams along the streets. The hot weather and white sands are perfect for sunbathing. Tourists can enjoy kitesurfing, snorkeling, and jet skiing.
The beach is known for its vast wildlife, and it has coral reefs and black and white colobus monkeys. The Shimba Hills National Reserve is close to the beach, home to a wide variety of wildlife. Diani beach is full of restaurants, supermarkets, and hotels.
Diani has several protected waters for conserving marine life and the ecosystem. Diani is home to the rare green and Hawksbill turtles. Reef sharks are also spotted seasonally in the waters. The Mwalunganje elephant sanctuary is also worth a visit; it is a sanctuary made to protect elephants from poachers and reduce human-animal conflict.
5. Nungwi, Zanzibar, Tanzania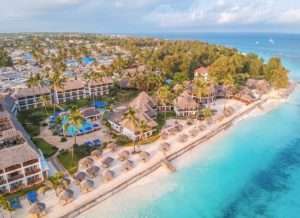 Nungwi was essentially a fishing village and dhow-building center but has since become an important tourist destination. At Nungwi beach, tourists enjoy snorkeling, diving, jet skis, and sunset local drum boats. Nungwi beach is quite memorable due to its crystal blue waters, powdery white sands, and a wide variety of flora and fauna. Nungwi is famous for its fantastic sunset views. In fact, you can get a sunset cruise from the locals.
The MNarani Natural Aquarium is situated in the northern part of the beach. The conservation focuses on rescuing green and hawksbill turtles. You can enjoy watching colorful shells and small marine life during low tides. At Nungwi beach, you will occasionally meet friendly cows.
Nungwi has a thriving nightlife for those seeking to have that sort of fun. Mangi's Bar is the most popular in the area. You can enjoy watching locals building boats to be used in fishing.
6. Anse Soleil, Mahé, Seychelles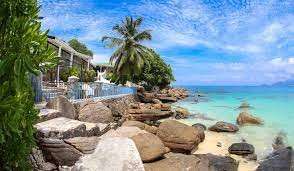 Anse Soleil is a beach paradise lined with granite rocks on either side. The beach and the ocean have gorgeous colors. Its beautiful turquoise waters are home to reserved coral beds and many undersea animals and plant species.
Anse Soleil is a wonderful snorkeling destination. Anse Soleil is found in the southwestern part of Mahe Island. There is no barrier reef at Anse Soleil; therefore, the waters are directly open to the sea.
The spot is perfect for snorkeling because water levels rise while the sea slope gently deepens as you get further into the sea. While snorkeling, you enjoy fluorescent blue coral beds, sheer granite rocks, and sandy seafloor where only seasoned divers get to. Anse Soleil has beautiful coral featuring green and pink polyps for those who love underwater photography.
However, tourists are discouraged from snorkeling between June and October due to bad weather conditions. Apart from snorkeling, the beach is also ideal for swimming and surfing. The waters get pretty high, especially during high tides.
7. Anse Source d'Argent, La Digue, Seychelles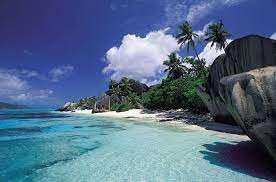 Anse Source d'Argent is one of the most famous beaches in Seychelles. This picturesque beach has been used in numerous advertising campaigns; you have probably seen it in Bacardi Rum and Campri campaigns.
To get into this beach, you'll have to pay approximately $8. The beach is a tourist attraction due to its shallow waters, golden sand, clear turquoise waters, and beautiful granite formations lining its boulders. Anse Source has been named one of the most beautiful beaches in the world.
You can enjoy swimming and snorkeling; however, there is the occasional high tide. The beach has a coral reef; therefore, its waters are shallow and perfect for swimming.
8. Belle Mare, Mauritius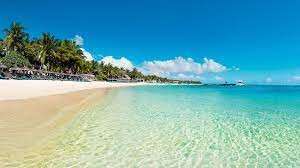 Located along the east coast of Mauritius, Belle Mare  is one of the top beaches in Africa. The beach is a barely developed stretch of fine white sand worth looking at. The beach has calm and shallow waters, perfect for swimming.
At Belle Mare, you can enjoy various activities such as undersea walks, swimming, private photography, parasailing, tube riding, and shopping. The beach has shallow waters, but swimmers have to look out for rocks on the shore in many places.
9. Ifaty, Madagascar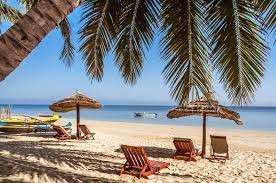 Ifaty is a serene location along the great reef of Madagascar. The area is highly unexplored, which has both advantages and disadvantages. Lack of exploration means that the beaches are clean and turquoise due to the absence of tourists.
The beach does not have large waves like other beaches due to the great reef that is deeper in the ocean that reduces the waves. However, you watch the waves from certain places on the beach where the sea forms a white line of turquoise waters deep into the sea.
Ifaty is ideal for snorkeling and diving. You can also enjoy sailing, fishing, and surfing at this beach. During June and September, tourists get to enjoy humpback whales migrating. In addition, you can enjoy birding trips, and visits to shore caves and mangrove forests on the beach.
10. Tofo Beach, Mozambique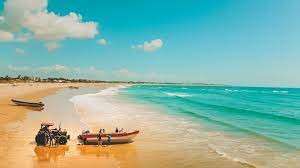 Tofo is one of the top beaches in Africa and a dream beach destination due to its pristine turquoise waters, a wide variety of marine life, and an active social scene. At Tofo beach, tourists can enjoy swimming with sharks in giant manta rays. Tofo is also a significant conservation hub and culture melting point. Tourists enjoy ocean safaris, surfing, quad biking, and scuba diving.
Tofo beach is popular for its ocean safaris which are basically open ocean snorkeling trips. These open sea trips allow tourists to spot whale sharks, dolphins, devil rays, sea turtles, and manta rays. The proceeds from these trips go into research and conservation efforts on the beach.
The waters on Tofo beach are full of plankton, therefore attracting a wide variety of sea life. Finally, a trip to Tofo Island would not be complete without sailing in a traditional dhow.
So what are your best beaches in Africa?