Listen, If you have been loosing Money in the Forex Market, you are doing it the wrong way. I have been in this market for over 10 years and I must admit, one of the things that has kept me this long and successful is my ability to study and trade one or two pairs at a time; that is while I am presenting you with Volatility 25 (1s) Index a great asset that has made me thousands of dollars in few months.
Learn the Secret of Forex Trading, Click here to download a free e-book now
What is Volatility 25 (1s) Index? If your are using Deriv as your gateway to the forex market, you might have come across this asset, but if you are not using Deriv, you can click here to create an account now. I am going to be very frank with you, please take your time to study what I am going to share with you.
Volatility 25 (1s) are indices that correspond to simulated markets with constant volatility of 25%; Volatility here refers to the degree of variation of price over time; while this definition might not be necessary to some people, it's important to point out that one tick in price is generated every second in Volatility (1s). A tick is the market's smallest possible price movement to the right of the decimal; to read more on tick, please click here.
This is Why you should Start Trading Volatility 25 (1s) Index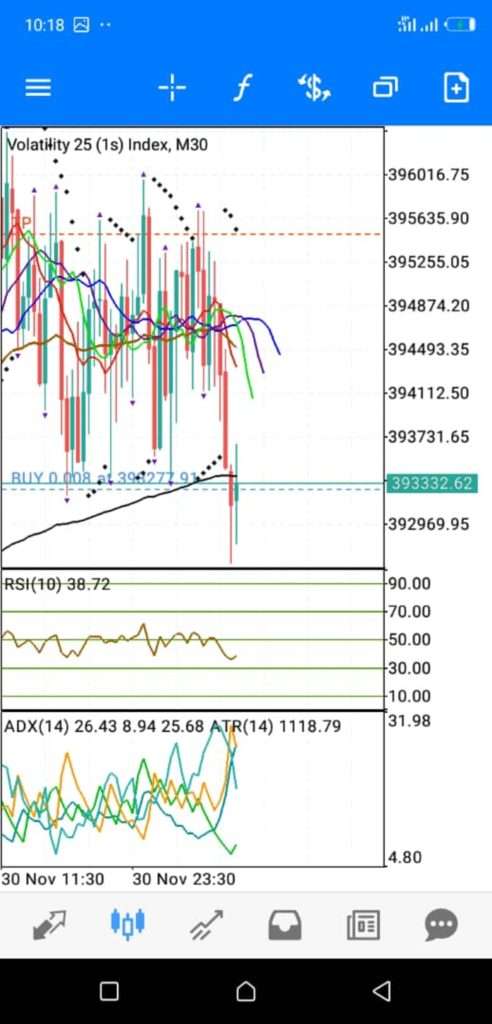 1. It's respect the forces of demand and Supply
Supply and demand zones are those zones on your chart where price has approached many time. They are great determinant of price. As you can observe on the chart above, I place a buy on the demand zone and the TP around the support zone. Placing trades on these zones always plays out on Vol 25 (1s) especially if you are using the higher time frame. So if you can spot the demand and support zones on your chart, you are on your way to becoming a successful volatility indices trader.
Here are what you need to know why trying to spot the Supply and demand zone
Use higher timeframe
You can use indicator like pivot point to spot these zones
2. You can trade even with small equity.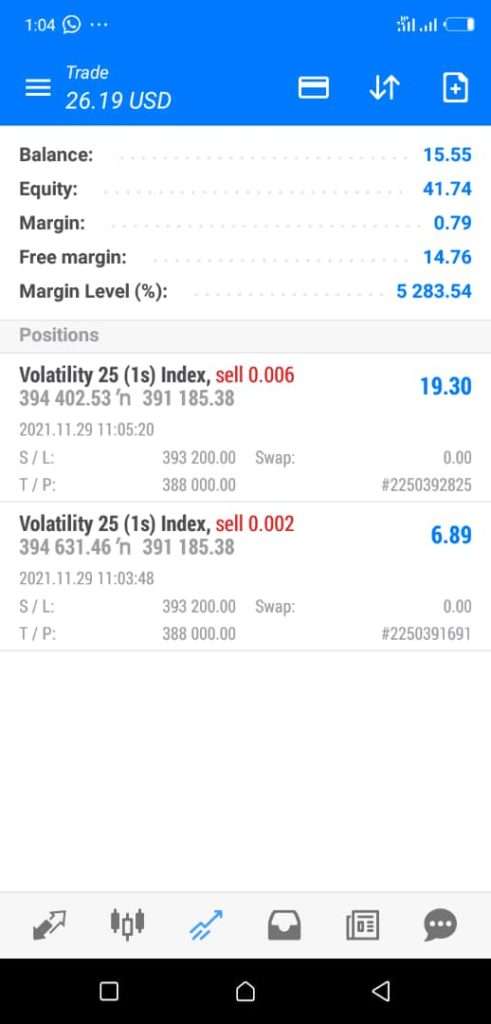 You can trade Vol 25 (1s) with as low as $10, even less and make good returns within the shortest possible time. I started with as low as $10 and grow gradually using small lot. The problem I have with newbies is that they want overnight success, which might be possible but not sustainable
3. It's newbies Friendly
Trading Boom and crash is great, because if you are buying crash and selling boom you will see blue immediately but if they go against you, you can lose your capital in the shortest possible time. Vol 25 (1s) is not like that, once you can spot a good supply zone for a sell or a good demand zone for a buy, your profit is guarantee, especially if you use great risk management measures. If the trade goes against you, meaning a violation of market structure, you can easily close them at a breakeven point.
4. It's offered by one of the most reliable Forex Broker in the market.
If you want to be successful in the forex market, the choice of broker is very important. Vol 25(1s) is only available on Deriv, which is one of the most trusted forex broker with over 20 years of experience in the market. Deposit and Withdrawal are instant, margin and leverage are one of the best in the market and you can be assure of 24/7 customer service support.
5. Vol 25 (1s) is available 24/7
Vol 25(1s) and other synthetic indices are available 24/7 with the same margin level and leverage. Meaning, even if you are working full time, you can create at least 2-3 hours weekly to make some extra cash from the market.
Conclusion
Trading Forex is risky, you can lose your investment if you don't follow the smart money management principle.  You need to study the market structure, adopt a good risk management principles and trade only when and where there is opportunities, that is why it is important to use a demo account and study which asset works for you before opening a live account.
All the best