Take a look at her, it is easy to assume that she is a petty loader that has a uniform that helps you spot her when she makes her deliveries. No, she isn't. Alia (not real name) is a home help who is saddled with carrying all the mistresses' goods to the shop at the lady's pace before arriving at school at long past 09 Am. To the young girl, she's arrived early. In education, however, she has lost the first period that allows her to learn English, and some days Mathematics.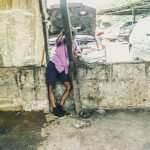 The boy Taza (not real name) exhausted from hours of hawking cassava balls in the morning and then walking a long way to get to school. Yes, He must attend this one that is this far because it's closer to the school his caregiver's kids attend and he must pick them up after school.
He is completely exhausted, he dares to take a breath albeit a short nap as he awaits corporal punishment he will be served at school. Let him rest. "Not a step further, lest your tiny frame falls apart" he hears his mind whispered. He stands, then rests.. lost in thought… he sleeps off. School can wait for just one period he assumes. The later the safer – who knows?? The compound master may well not be at the school gate at the time he gets in. It will save him the stroke of cain. That would be a better negotiation than a lesson in Math or English. "Who cares – I don't! After all, the English lessons are sometimes taken in my language" he notes. "Gosh!! Let me rest".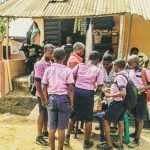 Bafana Bafana – my boys let's eat as we are clueless if our slave masters will consider us for a meal ticket till dusk. Let the teachers wait, this hunger is a lesson. The first we must learn from about poverty, the best we will understand about being from poor backgrounds.
After all, we are not learning what we are taught, we have been taught what we need to learn. By society, through corruption, police brutality, cultism, and the unkindness of some of our wicked masters. Yes, we will soon become the tutors- May society awaits our reality.
To these souls – education is the uniform, the punishment, the tests, and never the results. The huge number of students stuck in a class gives little room for questions or innovative learning.
All learners must of the essence in such classes be taught as 'Reading and Writing Learners' all other forms (Visual & Kinesthetic) learning can be thrown out of the window. These teachers try, I honestly tell you but the funds allocated to education give them no permission.
How do we tell them that being in school doesn't mean we are learning? Will they understand it? Nearly three-quarters of students in public high schools cannot write a basic English essay "what did you do in school today"?, and by graduation — half still cannot do so. Yet, we tell them "the future depends on you" the future must be one huge comedy show where the tickets will be sold by the leaders who will still be the leaders. It's just that at the time – we will be just performers.
It is estimated that in Nigeria 10.5 million are not of school. We have however, daily fought with the reality that there are more students in school but not learning. These ones like Arlia and Taza are fatigued, depressed, with learning disabilities, in crowded and poorly ventilated classes, with bad roofs that allow in the sun and rain alike – enrolled in school but not a part of 'school'.
"They deny us quality education because they are afraid of the power we will wield. They do not realize the power they daily loose by not supporting our education."
We are powerful!! Think about it. Uneducated we are Unguarded. Educated, we are Guided. 
What does Africa Prefer?
Mmanti Umoh 
Executive Director Teennation 
***********
Untold Stories of Africa's Education Crisis – Nigeria. 
A series from Teennation EduIntervention Project- NELPRO
Photography By: Harry Odunze
FOLLOW @OfficialNELPRO @TeennationHQ