Trading Crash 500 and crash 1000 is similar to currency trading, however there are so many differences. The main difference is the average drop in the price series that occurs anytime within crash 1000 and crash 500 ticks.
Don't be left out, Open a free trading account now by clicking here
For instance, if you placed a buy on crash 500 or Crash 1000 now, there are tendencies of a drop within some intervals. The drop always come so sudden that if you are trading against the trend you can loose all your capitals within just few drops depending on your lot size and equity.
This article will attempt to define a strategy that can assist you in your trading journey.
The 3 Pips Strategy for Trading Crash 500 and Crash 1000
The two most used Forex strategy are fundamental analysis and technical analysis. While Fundamental analysis depends on indicators like:
Consumer Price Index
Non-farm Payrolls
Retail Sales
Purchasing Managers Index
Technical Analysis depends on indicators like:
Relative Strength Index
MACD
Moving Averages
Fibonacci lines.
Stochastic Oscillator
Average Directional Index
Bollinger Bands
The combination of these tools is what helps traders to generate ideas that guide them on how they enter and exit the market with good profit or losses.
Let's look at the 3 Pips strategy.
First, what is Pip?
Pip in a simple term is point in percentage which is the unit of measurement that express the change in value between two currencies.
You can read more on Pip by babypips.
The Strategy

Read also: How to Trade Boom and Crash Indices Successfully
This strategy needs just two indicators:
Relative Strength index and
200 EMA
Fig 1: Indicator setup of the strategy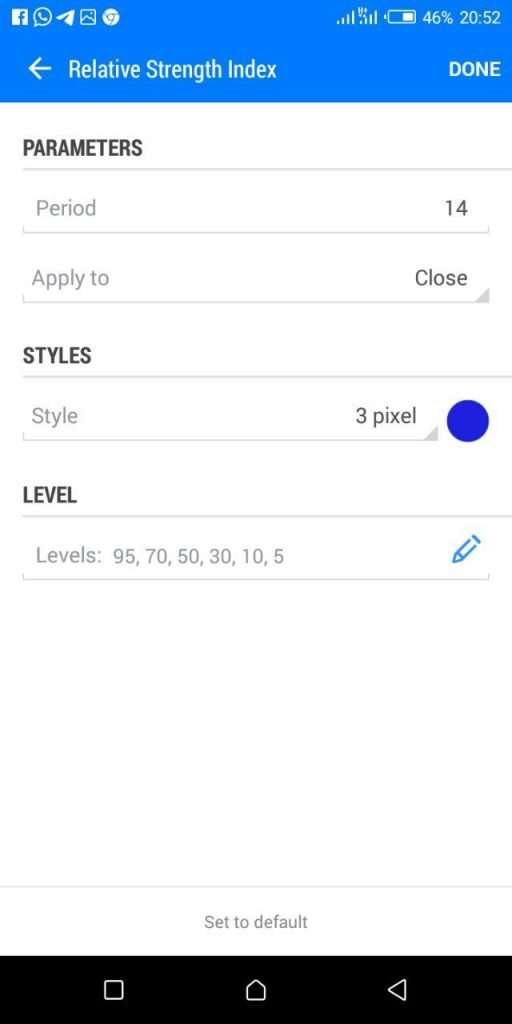 Fig 2: RSI setting
This strategy is very suitable for people with small capital
Here is a screenshot of a result from a small account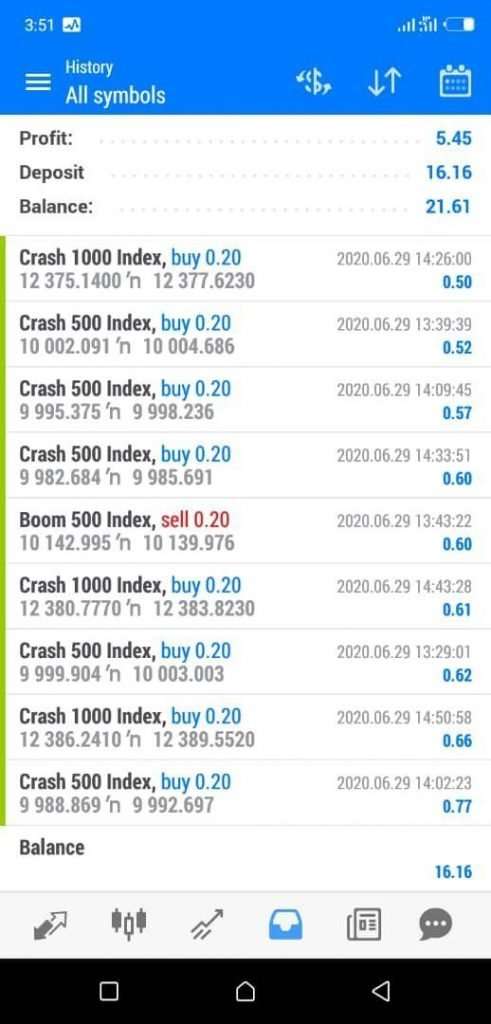 What you need for this strategy to what
Your balance should be between $15 – $20 USD or more
Your profit target should be between $10 – $15 daily
You need 200 EMA on your main chart and RSI period 14 on your indicator window 1
 You are using the M5 time frame only
How does it work?
When the price action gets to the RSI 30 line as illustrated in the chart below, you can buy crash after the formation of the third candle and stay in the market for just 3 pips. The buy condition can also be applied in Boom 500 and Boom 1000, but  its's important that you understand:
The trend of the market
Market structure
Major and minor support and resistance point on the chart.
Trading Forex is risky and profitable. It's very important to note that no Strategy is 100% perfect, personally i have tested and used this strategy for more than 4 months and i have over 5000% return on my equity.
I am having amazing results because, i only enter the market when the condition mentioned above are met and i exit once its 3 pips. I've master the art of fear and greed and I'm working strongly on my lot size.
Trading Forex is risky, you can lose your capital, please apply proper risk management and trade with only what you can afford to lose.