Bee farming can be a very lucrative business, but only when you have a perfect understanding of its dynamics. But how do you become a successful bee farmer?
In this article, we bring to you the story of Jason Runo , a successful bee farmer in Kenya. We'll give you an in-depth explanation of how Jason made it as a bee farmer, lessons, challenges, and achievements.
Let's dive in!
Overview of the beekeeping business in Kenya
Lately, many bee farmers are making a decent living due to the large market gap in the Kenyan bee industry. A recent report showed that 80% of honey consumed in Kenya is imported. This leads to a wide gap that needs to be filled urgently. There has also been a steady rise in honey prices over the last six years which makes beekeeping a profitable investment.
Am I going to succeed in the beekeeping business? I guess that's the question you're asking yourself. And the answer is a huge resounding YES!
Why?
Lack of competition in the market- bee farming isn't yet saturated. You can export or sell your honey locally with ease.
Kenya has one of the best patterns year-round which supports bee farming.
Most farmers are still using traditional hives which leads to low honey production. Take advantage of this and equip your farm with modern Langstroth hives for higher honey production.
Availability of large tracks of virgin lands that have various indigenous plants filled with class (A) nectar.
Jason Runo: Background Information
"I really wasn't always a cool kid, honestly, I wasn't, actually far from it, I always felt very different," says Jason. Jason Runo is a husband, media man, bee farmer, and entrepreneur. Far from that, Jason is a 'whole vibe'.
Growing up, Jason Runo and his brother, Nicholas were raised by their mom Rahab Nyanjugu Runo. Jason attended APTC primary school where he excelled in his studies before securing admission to Gaichanjiru High School.
Although Mathematics was a nightmare for Jason, he was a pro in performing Arts. This saw him directing his first play when he was 16 years. Runo was then called to Daystar University after slightly surpassing the Cut off points in his final exams.
At Daystar, Jason's passion for performing arts never ceased. He got a chance to feature in a musical titled Nehela directed by Yafesi Musoke.
After graduating with a Diploma in Communication Arts, Jason was invited to study film in South Africa which he gladly accepted. Coming back from Cape Town, the Daystar alumni was determined to make it in his career. Jason was lucky to secure two jobs despite the high rate of unemployment in the country.
During the day, he worked as a marketing manager at New Metro Cinemas, Village Market, and at night a sports anchor at KBC. One day, while at the office, Jason saw an advertisement for a cabin crew position by a certain Airline. He applied and got the job. His passion for traveling was inspired by her mom who would tag him along during her work trips.
Jason enjoyed his new work as a cabin crew. He even got a chance to participate in the duty-free sales competition which was held in South Africa. He won and got a rare opportunity to represent his Airline in the World competition in Brighton, UK. Long story short, he won the award for Merchandiser of the Year.
Unfortunately, Jason was one of the employees who got retrenched by the airline. Without losing hope, Runo got his feet into entrepreneurship opening a Flower Company which shut down after a few months of operation. Did he give up? No! Jason went on to start an improv comedy show Because You Said So (BYSS). The show has grown over the years to be Kenya's second-largest comedy show and Africa's biggest Improv comedy show.
Jason together with Sheila Kari is the host of Mazao Talks Podcast. A platform where farmers share their experience in farming and agri-business. Since it was first launched, the podcast has garnered over 12 million impressions across platforms.
Lately, Jason has been focusing on bee farming a lot. He has achieved great success over a short period of time.
Let's see how he does it!
Jason Runo: Venturing into Bee Farming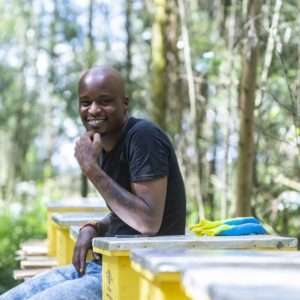 "They say a man travels the world to know what he needs, and then returns home to find it, and I have found mine, it's the BEE!" says Jason. What started out as a venture during the Corona Pandemic has now grown into a profitable business for Jason. Nowadays, he considers himself more of a Nomadic beekeeper.
Together with his team, Jason travels around Kenya educating bee farmers on new methods of beekeeping.
Starting a bee farm
When it comes to bee farming, there are many factors that come into consideration. For example;
Cost
You have to identify the costs of the beehives, protective gear, types of equipment, etc. Langstroth beehives are expert-recommended beehives and cost around Kshs. 8000. Alternatively, you can opt for the Kenya Top Bar Hive which goes for Kshs. 5000.
Location
The truth of the matter is that bees will only take care of you if you take care of them. What do I mean by this? If you give bees favorable conditions to live in, they will not only produce honey in large quantities but also high grade.
Here are a few tips on where to locate your beehives;
Establish your beehives away from the wind– trees, bushes, and ceilings act as good windbreakers. They ensure that the bees aren't chilled by the wind. If you happen to live in an extremely windy place, you can even strap the hive to a stand.
Locate them far away from human activities/noise– bees have a reputation for protecting their colonies. Due to this, the guard bees easily switch into defense mode once they sense danger. You can avoid this by locating your beehives far from paths or frequently used paths.
Keep your beehives accessible– honey is a very heavy product. During harvest, you will want the ease of accessibility to reach the hives and use your equipment effectively.
Protect them from predators– do some research on animals that hinder beekeeping in your area.
For example, if you live in Kitui where the temperatures are high all year round, then the main threat might be honey badgers. Therefore, favorable methods of preventing honey badgers would be to raise the hive at least 18 inches from the ground. Other predators might include spiders, hive beetles, and wax moths.
Keep beehives away from stagnant water– bees need water for their bodies to prevent dehydration. However, they don't like stagnated areas. You need to locate your hives away from plains that tend to collect water.
Another precaution is to ensure that rainwater doesn't sip into your hive. You can achieve this by slightly tilting the side of the entrance downwards. It ensures that rainwater slides off to keep the interior of the hive as dry as possible.
Beekeeping Equipment
After purchasing beehives, you'll need equipment to help you in this beekeeping journey.
They include smokers, hive tool, queen catcher, bee suit, gloves, shoes, essential oils, feeders, queen excluder, and queen marker.
Harvesting honey
Your first harvest will come after 6 months. After which, you can harvest honey three to four times each year. To harvest honey, pull a frame from your hive. Take a hot knife and cut away the wax. You can save the wax for making candles. Then, you'll bring in your honey extractor which takes away the liquid honey out of the honeycomb leaving the frame intact.
The liquid honey should be stored in airtight glass jars. Lastly, return the frame into the hive for future use.
Pricing
Honey is very profitable in the present day. This is because a kilo goes for about Kshs. 1000. And in a Langstroth hive, there are 8-10 bars each producing a kilo. It means that for each hive, you are able to bank at least Kshs. 8,000.
Challenges
Here are some of the set-backs that many bee farmers tend to face:
Poor time management of the apiaries.
Lack of information about bee pests.
Inadequate training in technical methods of pest controls.
Difficulty in controlling night dweller pests.
Once you learn to overcome these challenges, you can comfortably make your first million through bee farming.
Achievements
Jason now is the CEO of Oh Kay Honey Market which offers training, consultancy, bee installation, and apiary management. The company also hosts regular events to provide insights to anyone looking forward to venturing into the honey business or beekeeping.
Jason Runo: Impact on other Bee Farmers
Jason regularly travels across Kenya inspecting other beekeepers' farms and making recommendations on the number and types of hives to be used depending on the size of land each farmer has.
MazaoTalks podcast has also seen Jason travel to various counties in Kenya to meet various farmers, not necessarily beekeepers, in a bid to educate and share helpful insights with other farmers in agri-business.
Lessons from Jason Runo's success
Jason Runo success can be attributed to his commitment. He makes sure that he checks his hives regularly (at least once a month). This is basically to ensure that the bees are free from pests such as spiders, wax moths, honey badgers, ants, etc. It's probably the main reason why Jason is a very very successful bee farmer.