You might have come across the name Louis Odumegwu Ojukwu in passing as the father of Chukwuemeka Odumegwu Ojukwu, a politician, Statesman and the military governor of the Eastern Region of Nigeria in 1966. But do you know that Louis Odumegwu Ojukwu was the first man to introduced palm oil to the World?
Ever heard of the man whose Rolls-Royce Silver Wraith LWB was used to chauffeur Queen Elizabeth during her 1956 visit to Nigeria? The first Billionaire in Nigeria and possibly West Africa?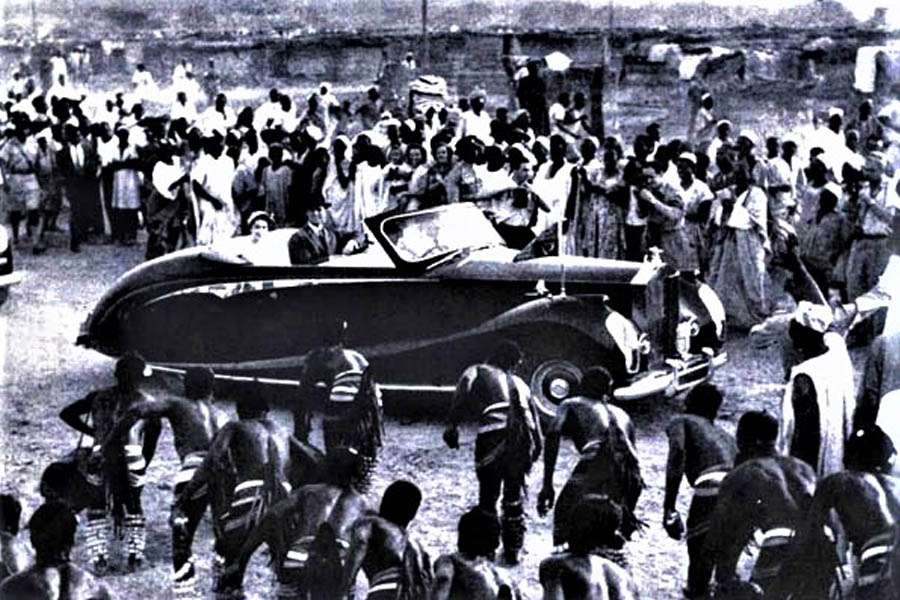 The Story of Louis Odumegwu Ojukwu is untold but very relevant in the economy of Nigeria, and West Africa to a large extent. He was a man of many means and one of the first who saw the huge business potential in Palm oil. He was worth $4 billion in today's exchange rate.
The Early Life, Education, And Family Of Louis Odumegwu Ojukwu
Louis Odumegwu Ojukwu was born into the Ojukwu family of Nwankwa quarters, Umudim, Nnewi, Anambra State in 1909 as the only male child amongst four children of his parents.
Louis had his primary education at a Government Primary School in Asaba after which he proceeded to the only secondary school in the Southeastern region in 1922, the Hope Waddell Training Institute, Calabar.
After his education in 1928, Louis moved to the then-booming centre of commerce in Nigeria, Lagos where he got a job as a tyre sales clerk with John Holt in 1929. It is important to note that before he ventured into the world of sales, he had a brief stint in the Agricultural department which he will go back to much later in life.
Sir Louis's Business And Life
As a bright lad with an entrepreneurial spirit, it didn't take long for Louis Odumegwu Ojukwu to notice that Igbos who came down from the east to buy tyres also bought textiles. Like any business inclined person, Louis moved to bridge the gap in the textile market in the South East. With his savings as a sales clerk, he opened up his own textile business in Onitsha and put a relative in charge of it, he called it "Ojukwu Stores". This was the birth and beginning of Sir Louis's many business ventures.
Sir Louis continued with his job at John Holt while sending down textiles back home to his burgeoning business. In the course of his business, he encountered difficulty transporting his textiles and so did many other Igbo businessmen, being a savvy businessman, Sir Louis saw this as another opportunity and by 1930, 'Ojukwu Transport Company' was born with only one second-hand car and a driver.
At that time, Louis Odumegwu Ojukwu resigned John Holt to focus on the Ojukwu Transport Company. His impeccable work ethic set him apart from other transport companies, by the 1930s, Louis became the main transporter plying the Nigerian Road with more than 200 vehicles.
Ojukwu Transport Company became very big such that the British Government requested for the use of his fleet of trucks to aid the war effort during the outbreak of World War 2 in 1939 for which he was recognized by the British Government and awarded a KBE (Knight of the British Empire).
The economic boom that followed the end of the world war swayed very much in Sir Louis's favor as he took the opportunity to harness the high demand for raw materials from West Africa causing his transport business to skyrocket.
During this time of high demand in raw material from West Africa, while everyone was gravitating toward crude oil, Louis as we already know who has the knack of sniffing out opportunities, saw the potentials in the nonexistent palm oil sector, and harnessed it to the fullest.
In his typical manner, Louis grew this industry meticulously expanding the scope. Eventually, he had an entire area on the outskirts of Lagos dedicated to the processing and packaging of his palm kernels into palm oil.
Louis Odumegwu Ojukwu might not be the one who introduced Palm oil to the world, but he was responsible for its global recognition by ensuring it got exported to every part of the globe, as at then, he controlled more than 90% of the global palm oil distribution network. As the demand for palm oil kept increasing, he thought of more ways to develop and harness this natural resource, he sponsored entire agricultural research that bred new species of palm trees that contained richer oil extract, till this day in southeast Nigeria, there is a specie of palm tree named after him 'Akwu Ojukwu'.
He also invested heavily in real estate and industries, at some point, it was said he practically owned half of Lagos State, especially the Victoria Island axis.
As his businesses and wealth grew, Sir Louis was made director in several corporations and sat as head of several boards of companies. He was amongst the seven subscribers of the Nigerian Stock Exchange Memorandum of Association and also the first president of the group.
He served as a Director and Chairman, respectively in the following companies:
● African Continental Bank.
● Nigerian cement company (NIGERCEM).
● Nigerian National Shipping Line.
● Lion Of Africa Insurance Company.
● Lagos Chamber Of Commerce.
● Palm line Shipping company.
● Shell D'Arcy Petroleum.
● Thomas Wyatt & Son.
● Guinness Nigeria Limited.
● Nigerian Tobacco Company.
● Daily Times of Nigeria, and many more.
Political Life
With wealth came power, Sir Louis's influence spread beyond the business sector, before long he was walking down the corridors of power without even asking for it.
He was very active in politics before independence and was a major sponsor for the National Council of Nigeria and Cameroons (NCNC), Nnamdi Azikiwe's party. He went on to serve in the house of representatives for one term before the nation's independence.
After the Independence, the NCNC came into power with Nnamdi Azikiwe as the President, Sir Louis was offered the position of Financial Minister which he turned down politely.
Death
Sir Louis Odumegwu Ojukwu died in 1966 in Nkalagu, Ebonyi State.
His Legacy
Sir Louis Odumegwu Ojukwu's achievements might have been shadowed by his son's feisty legacy but one thing is sure that when you talk about the Nigerian economy and business space, his name will be up there amongst the forerunners.
His business acumen and knack for spotting a problem and turning it into multiple opportunities are worthy of study. He is arguably one of the smartest businessmen out of Africa.
His hometown, Nnewi, Anambra State is currently referred to as the Japan of Africa, it has the highest concentration of billionaires in Nigeria. Some of those billionaires were Sir Louis' early drivers who went on to become Transport moguls themselves including Chief Ilodibe and Chief Izuchukwu. Maybe Sir Louis's legacy did not die after all as he continues to inspire several businessmen who adopted his model.