Failing to plan is planning to fail. As simple as it may sound, not having a business plan is the first step toward failure in any business, not just real estate. Writing a Real Estate business plan will serve a crucial role in setting your business on the right path to success. Not only will you clearly define steps to reaching your goals but also get the necessary funding. In fact, businesses with a detailed business plan are twice as likely to secure funding than the ones that don't.
Writing a real estate business plan can be a 'nightmare' especially when you are just launching your business. There's a lot that needs to be put into consideration. Nonetheless, it becomes quite simple if done correctly.
In this article, we take you through a step-by-step guide on how to write a Real estate business plan and all the essential elements that should be featured within.
Let's dive in!
What is a Real Estate Business Plan?
A real estate business plan can be termed as a document that outlines a business's operation and goals. In simpler terms, it's a blueprint that a business follows in order to reach both short and long-term goals. For example, it shows the step-by-step procedure that your real estate company will follow to arrive at your five-year goal.
As a realtor, a business plan is very essential for the success of your business. Why is that so? Because not only does it help you counter future obstacles but also places your company in a position to succeed.
It will guide you when things are going in the right direction and they are headed south.
So without any further ado, let's first have a look at the basic components that your real estate business plan should have.
Essential Elements of a Real Estate Business Plan
Here are some ingredients of a real estate business plan;
Goals
Both short-term and future goals are essential elements of a good real estate business plan. As you write down each goal, you must also outline the steps to be followed to achieve them. For example, if you intend on getting funds, organize the plan in terms of what your potential investors value the most.
If you intend to land 20 clients by the end of the first year, you can break down the goal by, launching a marketing campaign, establishing a buyers list with a minimum of 100 contacts, organizing property viewings, negotiating prices, and lastly closing the deal.
Financing Plan
If you are just starting, writing a financial plan can be a daunting task. A financial plan consists of four financial statements. That is:
The income statement
The balance sheet
The cashflow projections
The statement of shareholders' equity
One of the benefits of having a well-organized financial plan is that you'll have an easy time getting potential investors to look your way.
Marketing Plan
As a real estate company, you have to get the word out there that you do exist. That's how clients and investors will work with you. That's why you need a stellar marketing plan. This may include the promotion activities and proposed advertising. Other elements that feature in the marketing plan include the business logo, websites, and social media outlets.
A Real Estate Business Plan
As a real estate investor, writing a business plan can place you ahead of your competitors for years to come. Although it isn't easy writing one, with the correct guidance, you can come up with a working plan.
Here is my template on how to write a real estate business plan:
Write an Executive Summary
An executive summary is your company's vision and mission. It encompasses your mission statement, company's description, products and services, financial strategy, and growth data.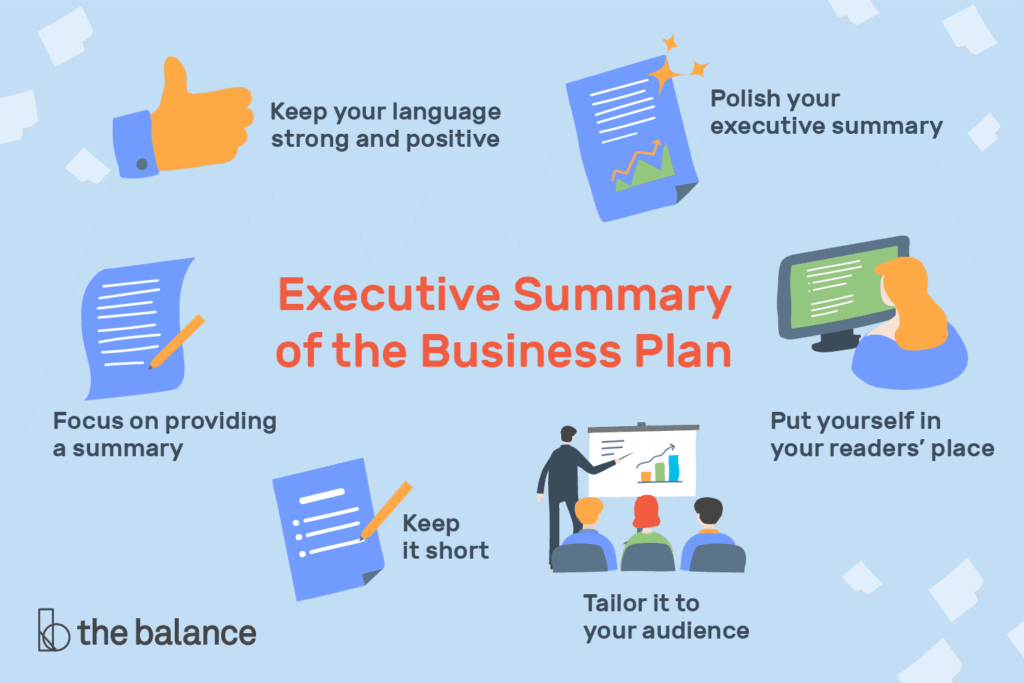 Other elements include target market, marketing, and sales strategies, competitive analysis, and the number of employees to be hired.
Your Company's Description
Here you'll have to write down various elements of your real estate business. You can include your goals and the procedure for arriving at each goal. In your company's description, explain how you'll be providing the needs of various home buyers as well as why potential clients should pick you.
The Market Analysis
By now, you ought to have conducted in-depth research and mastered the dynamics of the real estate industry. Here you have to outline your target audience, pricing, gross margin targets, and market shares. If you can clearly define all the elements, then the next step is pretty simple.
Outline your Organization & Management
Basically, this is just specifying who is working at your company and what their qualifications are. Aside from that, you can include the organization's structure from the company's ownership down to the management team.
Products and Services your company offers
Here you have to clearly state what your real estate company is offering and how customers will benefit from your products and services. In addition, outline why you are the best against other companies offering the same service in your niche.
Marketing Strategy
Do you intend to close 5 deals by the end of your first financial year? How do you do this? PROPER MARKETING. A proper marketing campaign includes a good distribution strategy, communication strategy, and the company's plan for future growth. Most of your time and focus should lie here. You should plan on how to identify and contact new leads every single day. You can do this through email marketing, building a website, promotions, influencer marketing, Etc.
Final Thoughts
With this simple Real Estate Business Plan template, you are a step closer to running a successful real estate company. All you have to do is to follow the steps above, be consistent, and watch your business scale higher each passing day.