Trading can be a stressful process, especially for beginners. This is why you need to start trading on a platform that makes the process hassle-free. In this article, we will look into how to trade on Deriv.
Learn the Secret of Forex Trading, Click here to download a free e-book now
What is Deriv?
Deriv is a platform where financial experts skilled in trading assets like forex, commodities, cryptocurrencies, stocks, and synthetic indices trade seamlessly.
One major reason traders use Deriv is that it allows users access to all the features they need, plus it is a customizable CFD trading platform. This makes it possible for traders to have control of their trading activity.
Steps on How to Trade on Deriv
Step 1: Create an Account
The first thing to learn on how to trade with Deriv is to create an account on the platform. You will be required to enter your email address. After inputting your email, you will need to open your email, confirm your email and follow through the all process.
You must always remember your login details, so ensure to select a username and password you won't easily forget. Your username and password are what you will need to login in to your Deriv.com account, this is different from your trading password, which will be discussed in the next step.
Step 2: Log in to your account and Create your MT5 login detail
In Deriv, you can create two types of accounts as a trader; Synthetic and Financial accounts.
Synthetic Account
If you are looking to trade synthetic indices on Deriv, then this is the account you should create
Financial account
This account is for traders looking into trading CFDs on commodities, forex, commodities, and cryptocurrencies.
After identifying the type of Deriv account you would like to create using a variety of items to trade, you will be expected to choose between creating a Demo account and a Real account.
A Demo account is for traders who are not yet interested in funding their account while a Real account is for those that are ready to fund the account and start trading. You can select whichever one you like from the Deriv dashboard.
After selecting your preferred trading pathway; you will need to create a trading password, this what you will use along side your MT5 ID to trade, either on Deriv X, Deriv Web Portal, Multipliers or on Metatrader 5.
Read: How to Open a Real Forex Account, Fund and Withdraw Money from Deriv Brokerage
Step3: Fund your Account
Learning how to trade on Deriv is not complete without knowing how to fund your account, as you cannot start trading without doing this. To fund your Deriv account, click on Cashier and select your preferred option.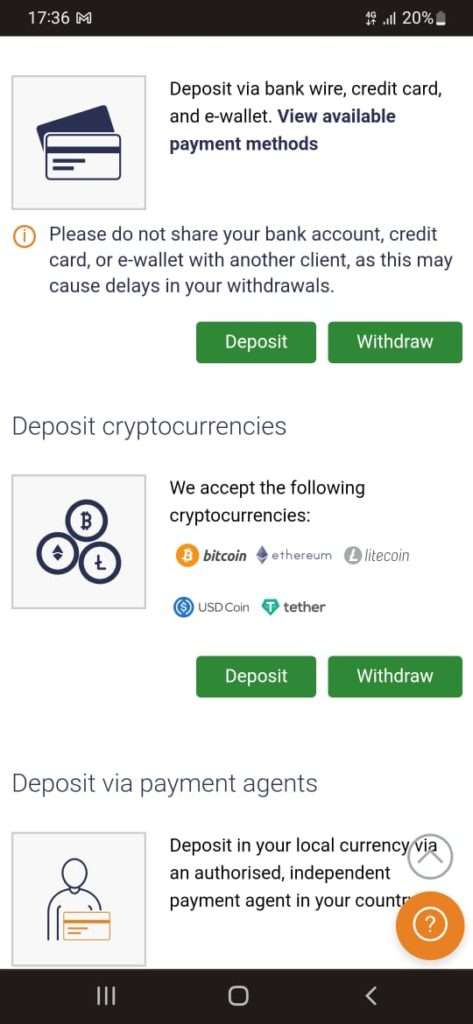 You can deposit via bank transfer, Cryptocurrency or Payment agent, click on deposit on any of the options you wish to use and an email will be sent to you for confirmation; log into your email, click on the link to confirm, then make your deposit.
After making your deposit, you will need to transfer it from your Deriv Dashbord to your MT5 dashboard to enable your funds to be available for trading.
Step 4: Start Trading Assets
You can trade on the web portal, Deriv X or MT5, to trade on MT5.
Trading on MT5
For Laptops
Download the Deriv MT5 by clicking here. After downloading, Input your MT5 login details (make sure the Deriv Server you choose matches the one on your MT5 account on Deriv). The next thing is to go to Quote and add your preferred trading instruments.
For Mobile Phones
Download MT5 from your Android or IOS store, input your login details, add your preferred trading instrument, analyze and start trading.
Step 5: How to Withdraw Money from your Deriv Account
The next step on how to trade on Deriv is knowing how to withdraw your earnings on the platform. To withdraw funds on Deriv:
Go to "Cashier," select the payment method you would like to use.
Click the confirmation link send to your email, and it will take you back to the withdrawal page, where you will input the amount and other details.
You are expected to use the same payment method when depositing funds to withdraw from Deriv, especially if you want to withdraw using payment agents, which are usually faster.
Tips on How to Trade on Deriv as a Beginner
Here are some valuable tips you should put into consideration when looking into how to trade on Deriv;
Have background knowledge of trading
Do not gamble with your funds if you do not have any knowledge about trading. Ensure you have some knowledge on trading before starting your trading journey, because trading requires some basic knowledge. Watch videos online, read books, and ask people who are doing well in trading to coach you before attempting to start trading on Deriv.
Have a reliable Internet Connection
To know how to trade on Deriv requires you to have a stable internet connection. Struggling to open or close a position using a bad internet connection can be a bit frustrating.
Be Prepared to Take Risks
Trading involves many risks, and if you are not ready to accept losing, you probably should not bother about trading .
Final Thoughts on How to Trade on Deriv
Trading is a risky activity because it involves dealing directly with money. As a trader, you might experience many losses, which should not stop you from trying hard to win. Remember, there is a bright light at the end of every tunnel.
Disclaimer: I am not a financial advisor; the information in this content was created based on my opinion and experience with Deriv. You can do your research before making a move to trade on the platform.