Over the last few years, I have engaged with many forex traders on the need to go after knowledge before thinking of making profit from forex. In one of the training I held last year, a question was raised around "How to trade forex with less then $1 equity" While I don't advice anyone to start trading with less than $1, I want to show you that it is possible to trade forex with less then $1 equity.
Learn the Secret of Forex Trading, Click here to download a free e-book now
How to Trade Forex with less than $1 Equity
In this article, I am going to take you through a step by step guide on how  I take a Forex account with $0.54 equity to $34 in 20 minutes.
The Basics
Before trading Forex with less than $1 equity, you need to take note of the following:
The Broker
The Asset you are trading
Your Lot Size
The Broker
The first and most important thing to consider if you want to trade a forex account with a small equity is the broker. Most broker have a good leverage that can allow you to trade with as low  $0.50. One of such broker is Deriv. I have used Deriv for more than 6 years, they are one of the most reliable and trusted Broker with over 20 years in the industry and they are beginners friendly.
Don't be left out, Open a free trading account now by clicking here
They are many other good broker out there, just do your research and go for the best, but if you don't know where to start, I will recommend Deriv.
The Asset you are trading
If you are a Boom and Crash trader, It maybe impossible to trade Boom 500, Boom 300, Boom 1000 or Crash 500, Crash 300 and Crash 1000 with less than $1, but very possible to trade Vol 10, Vol 25 (1), etc., So your choice of asset is very important; look for the asset that is friendly enough for small account.
Your Lot Size
One of the challenges I have seen with many new and struggling traders is risk management. You can't use big lot size for a small equity account. In a way, your lot size determines your risk appetite ratio in the market, so try as much as you can to manage your risk by starting with your lot size.
How  I take a Forex account with $0.54 equity to $28 in 20 minutes
This was a challenge and I was willing to see it through; sometimes as a forex mentor, you need to show your mentee practical skills and experience that will stick with them for a long time. Before I attempted this challenge, I did a comprehensive analysis of the asset I wanted to use for the challenge and I came out with this conclusion.
I decided to use Vol 25 (1s)
I decided to start with 0.005 lot size and increase the lot size as the equity grow
My strategy was using the principle of support and resistance for the trading
Since I had so many people watching; I was very careful not to make any mistake in-terms of risky entry, so, I confirm my entries using trendline, support and resistance and market structure.
I started with $0.54, closed the first trade at $10.67. From $10.67, the equity grew to $14.41
After few moves, I close one position, then add another to push up the balance to $12.60 while the equity soar to $27.10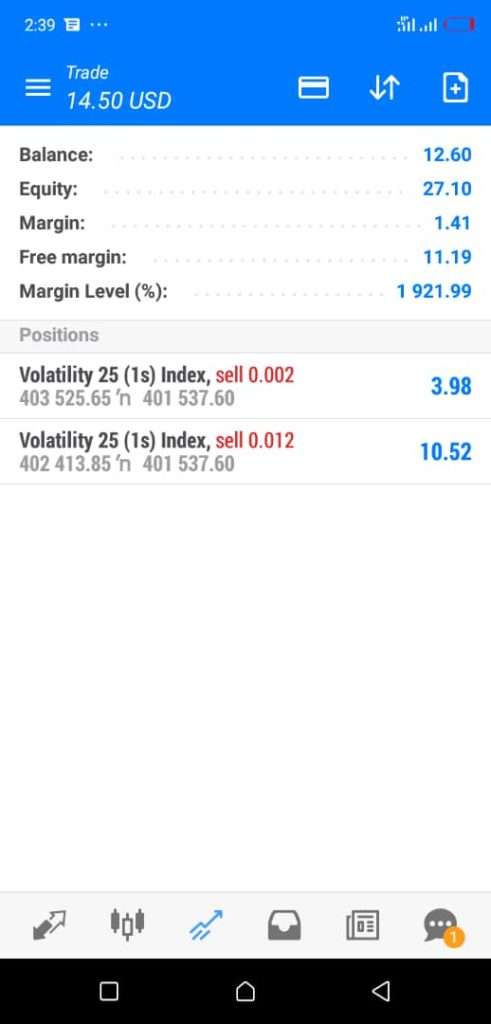 Then I allow the the equity to grow to $34.41 while following up the trade slowly with Stop loss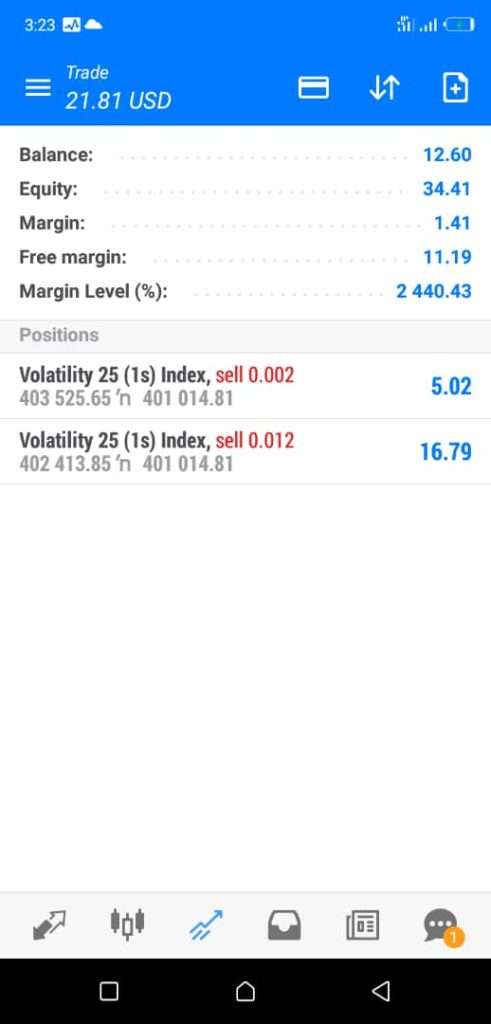 The Strategy
One of the thing most traders are consistently looking for is strategy; So in this challenge, my  strategy was as follows
Use the least lot size for the chosen asset
Add Exponential Moving average (EMA) 48 to the chart
Mark up High-High and Lower-Low on M5
Draw a trendline on M30
Study the Market structure and note major support and resistance zones
Place a buy when the price is above 48 EMA and sell when it's below 48 EMA
Target just $30 dollars daily.
Final Thought
To be a successful market trader, you need to have a good knowledge of the market, it doesn't matter your equity, you can still make a sustainable income from the Forex market.
Trading Forex is risky, you can lose your capital, please apply proper risk management and trade with only what you can afford to lose.