In this article, creative ways of how to earn cryptocurrencies without investing in them are explored based on first-hand experiences.
Learn the Secret of cryptocurrency , Click here to download a free e-book now
Do you know that there are people who have given up on the cryptocurrency asset class and even argue that the new investment craze is a form of gambling? Yes! Talking from experience, I find myself to be among these crypto detractors sometimes. A thorough form of education on a particular subject is expected to make one unbiased.
Furthermore, one becomes a critic of the same subject based on his or her vast experiences and knowledge. Although the cryptocurrency industry is at its infancy stage, one cannot deny the immense opportunities it has provided in building exceeding great wealth. The crypto space has its season just like the typical weather. There is the winter season characterized by a harsh downturn in the markets and the summer season which is known as a bullish period where prices of crypto assets rally and most times reach new all-time highs (ATH).
The harsh experiences of the crypto winter season inspired this article. Such times like we are in, at press time, sees a huge exodus out of the crypto market. This in turn causes a downturn in the value of crypto assets. But there is a catch. Instead of gambling hard-earned money, let me show you how to earn cryptocurrencies without investing in them.
5 Ways to Earn Cryptocurrencies without Investing in Them
Writing for Stablecoins
Stablecoins are my best crypto assets. This is because they are backed by a popular currency, e.g. the US dollar or an asset, e.g. gold. The stablecoin is valued at the same price of the asset it is backed with. This means that if it is backed by the dollar, its value takes that of the dollar and this also goes for the Pounds Sterling and Gold. The most popular stablecoin is Tether with a ticker known as USDT. As a writer, you can write for USDT. Earning USDT is exactly the same as earning the US dollar. This is because USDT is backed by the USD, so it is the same in value. One awesome advantage of earning USDT is that it eliminates the middleman. Middlemen as we know, tend to charge exorbitant rates which in turn makes writers' earnings worthless. For example, most traditional escrows come with stringent conditions where more than 1 middleman charges from your earnings. The platform that provides payment, charges you and the exchange rate provider also gives you any rate of his choice since you are left with a limited option. For instance, the rate of the US dollar at press time hovers at 650+ NGN but the exchange rate provided via most escrows is 394 NGN which hasn't changed for many months. At the end of the day, the writer is left with a paltry sum despite the hard work.
As a writer, you can make a research on gigs that pay in USDT. You will also need a Crypto wallet and a USDT address to receive your pay. The payment is immediate and you can withdraw it immediately you are paid unlike escrow that takes days to withdraw and also charges exorbitant fees. The exchange rate is very attractive also as there are no middlemen who will profit from your labour except for a network fee of $1. This means that, no matter the amount of USDT you are receiving, only 1USDT will be charged. You could be lucky that your employer would pay for network fee leaving your balance intact.
Engaging in Tasks
Do you know that centralized exchanges (CEX) like Binance assign certain tasks which in turn comes with rewards of cryptocurrencies especially stablecoins? While writing this article, I received a notification from my Binance app. I was assigned a task.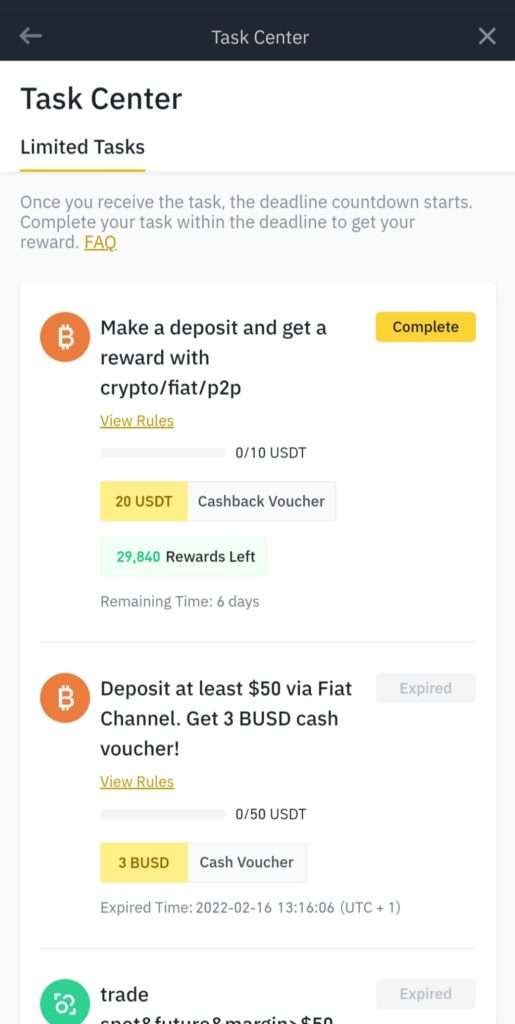 Cashback Vouchers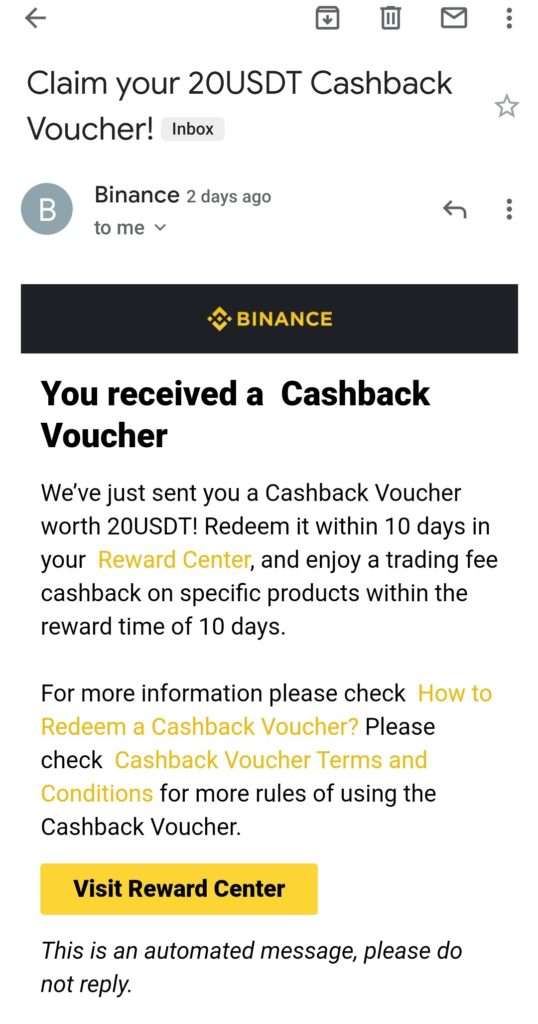 Also, cryptocurrency exchanges like Binance also reward users with cashback vouchers which they can use to trade. I was just rewarded a 20 USDT Cashback Voucher.
Read: How to Earn Passive Income on Binance with Your Cryptocurrency
Mining Cryptocurrencies
One sure way of how to earn cryptocurrencies without investing them is mining. This is an old method which still works for some crypto currencies. A classic example is the Remitano Network Coin (RENEC) which is simply being mined on the Remitano app.
Read: How to get free Bitcoin with your Phone in 2022 (Full guide)
Airdrops
Airdropping cryptocurrencies has become a norm in the crypto space. New crypto projects adopt the strategy of airdrops in a form of incentives and promotion. There are certain tasks assigned in order to be eligible for crypto airdrops.
Final Thought on How to earn Cryptocurrencies Without Investing in Them
Staking cryptocurrencies would have made the list but based on the topic of the article, it was not included. Before one could earn from staking cryptocurrencies, he or she must first invest them. But since the subject matter talks about earning cryptocurrency without investing them, it was left out of the list. There are also other creative ways but the 5 major ways discussed in the article are based on a first-hand experience. There is no doubt that cryptocurrency is an asset class bound to stand the test of time but for now, there will be high volatility due to its small market capitalization.