Many Forex traders make the mistake of thinking they need a highly complicated strategy to succeed in the forex market, they will add so many technical indicators to their chart and even hunt for more special indicators in their quest to become successful in trading, but more often the most effective strategy is the simple one, in this tutorial, we are going to explore some Forex Trading Strategies for Beginners
Don't be left out, Open a free trading account now by clicking here
Forex Trading Strategies for Beginners
One thing that came to my mind while I was planning to write this tutorial on "Forex Trading Strategies for Beginners" was my first few months in Forex. During my first few months in forex, I had a forex mentor who gave me just one simple instruction "Sell high, buy low". The instruction was very simple while I was trading on my Demo, but became complicated when I switch to my real account.
While was it Complicated?
First, I didn't ask my mentor why I should sell high and buy low
Secondly, there were time that the market gets to a high point and when I place a sell, it will keep going up, or get to the low point, when I buy, it will keep going down, thus forcing me to close in loss.
Thirdly, I didn't know that loses were inevitable in the forex market.
The Problem with Many Forex traders
One of the issues I have with newbies is that they are constantly in search of a perfect forex strategy with 100% win rate. Because of this, they will jump from one forex course to another thinking that they will find the holy grail of trading that will give them 100% win in the forex market. When they fail to get the self-acclaimed "holy grail" they either become depressed or start seeing Forex as a scam.
Before we continue, I want you to know that, there is nothing like a perfect strategy; no strategy is 100% perfect, so if you can develop a strategy that is up to 90%, please stick with it, refine it as you grow and you will enjoy the market.
The Basic things you should Know as a forex Beginner
Starting with a good Forex Broker is crucial to your Forex success.
I have said this a couple of time, you will struggle in the Forex market if you don't trade via a trusted and a good forex broker, who has a good leverage, tight spread and a good deposit/withdrawal options. Personally, I use Deriv, because of 24/7 trading option, easy deposit/withdrawal, tight spread and a great leverage . Apart from Deriv, they are many other good forex broker you can explore.
Money Management is Key
Knowing how much you need to risk per trade is very crucial in your forex journey. As a rule of them, have a percentage of your capital that you want to risk per trade. If you don't have a good money management strategy you will struggle in the market.
Start Small
I'm a strong of advocate of sticking to two or three forex assets daily, this will help you to follow up the price movement and make inform decision once the price gets to some key level on the chart. As a beginner, pick two or three forex asset, study them, understand them and trade them. You can expand to other market once you get a grip of the market, for me I trade mostly Crash 500. Don't aim or plan to trade all the assets in the market.
If you are trading Currency pairs, you can choose one pair say GBPUSD, study the history, make every key levels in the trade and become an expert on it, before adding another pair to your trading list.
Get a Demo Account
Demo account is a must have for every beginner, as it will help you in exploring the market, back-testing strategies and prepare you for the real market. If you don't have a demo account, you can click here to open a free account with Deriv.
Consistency
Consistency is very vital in forex. The reason most people get frustrated in Forex is because of lack 0f consistency. Some of them just win one single trade and after that, they lose every other trades. If you want to be successful. Learn to review your trading history everyday. Find out why you lose a trade or win a trade respectively.
Questions like:
Did you close so soon?
Should you have used a limit order
Was your TP or SL so tight or close?, etc., can help you to refine your trading strategy.
The Only Strategy you need as a Forex Beginner
In trying to answer the question of the Forex Trading Strategies for Beginners, I want to share just one very simple strategy; which is the one I am currently using, I believe if you study it, apply it in your demo, you can adjust it to meet your trading needs.
The Basics
Daily Target
My daily target is between 15 – 25% of my trading equity for profit and the 10 – 15% for lose. Which mean, once I meet my daily target I close my trades for that day. Except on special occasion where I am running a challenge with my trading community
Lot Size
Since, I trade only C500, my lot size is between 0.20 to 1.0 depending on the key level am targeting.
Indicators
I trade basically with Price action, but I have Exponential Moving Average period 48 on the chart to assist on trend direction; RSI Period 14 (level 20 and 80) for momentum support and I mark key levels (support and Resistance) every morning before I place any trade
The Strategy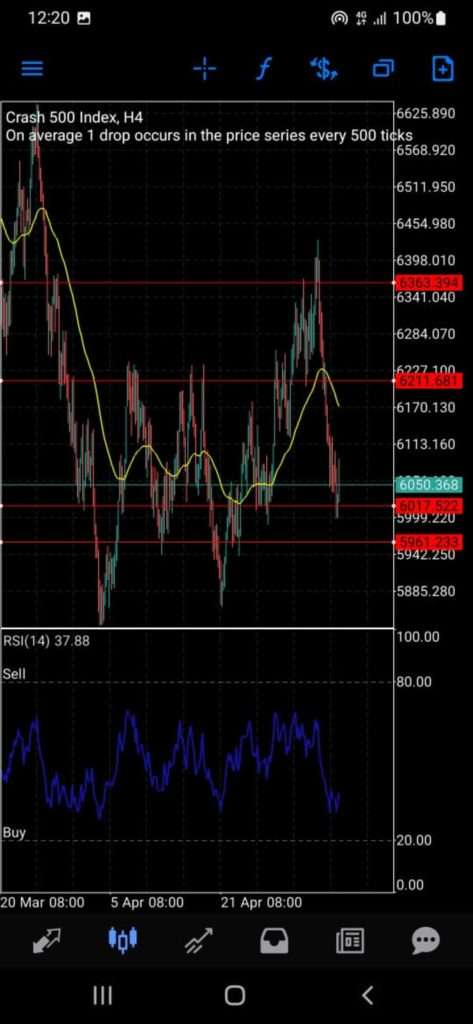 In the screenshot above, you will notice that I mark 3 key levels which is delineated by the red line. Currently, the price is  at 6050.368 at the time of writing this article. Before getting to 6050.368 , the price sold down and bounce up at one of my key levels which is 6017.522. One thing you will notice from my key levels is that they are areas of strong price action.
My rule for entry is to monitor the reaction of price around my key level, then compare with market history before making any entry. I also have Exponential Moving Average Period 48 on my chart which is delineated by the Yellow line; this EMA assist me in determining the trend of the market. For instance, when price is above the 48 EMA, it signifies an uptrend, when it's below the 48 EMA, it signifies a downtrend.
The RSI indicator on Indicator window 1 is to assist me avoid any potential liquidity gap in the market. For instance, if the trend is up and it's get close to the 80 line of the RSI, I will close the buy and wait for a sell signal, sell signal is confirmed when price get close to one of my key level in the market. That is:
RSI move close to 80 level on RSI and Price approaches a key level of resistance, a sell opportunity is imminent
RSI move close to 20 level on RSI and price approaches a key level of support, a buy opportunity is imminent.
Please practice the strategy first on your demo, adjust it before going over to your real account. Best.