Few weeks after his appointment as NCDC boss, Chikwe Ihekweazu and NCDC was faced with a deadly outbreak of Meningitis in Northern Nigeria. As a medical Epidemiologist with over 20 years of experience in several National Public Health Institutes, Chikwe and NCDC immediately swung into action to contained the Meningitis outbreak.
Some of the issues faced by NCDC as at then included; many local health workers were lagging behind in case reporting; NCDC staff strength was relatively low compared to national, regional and global demand; Cerebrospinal fluid (CSF) samples got spoilt before reaching the National Reference Laboratory thus hindering the possibility of confirming the causative agent in order to get adequate vaccines to support the outbreak response.
The tragic realities of the outbreak and the desire of Chikwe to make a difference by strengthening Nigeria health security against outbreak and pandemic inspired a new wave of investment in the Nigerian health sector which has been very vital in the ongoing National response to COVID-19.
As NCDC boss, Chikwe  has led the response to outbreaks of endemic infectious diseases such yellow fever, Lassa fever, Monkey-pox, Cholera, and the coronavirus outbreak which started in early 2020.
Chikwe Ihekweazu Ideology
One of the reason NCDC has been largely successful in the response to the COVID-19 pandemic is the ideology of Chikwe Ihekweazu. As a leader, Chikwe believe completely on institutional and organizational strengthening; that is while from day one as NCDC CEO, he has championed the development and implementation of a strategic plan with a focus on institutional and organizational strengthening, this has seen a collection of  Nigeria's Health Security partners like Tony Blair Institute, Public Health England, UNICEF, GAVI, US-CDC, Georgetown University, amongst others supporting NCDC and Nigeria in institutional capacity strengthening.
"I hope my legacy is that my name will be completely forgotten and everyone will remember the institution that we have collectively built with many other Nigerians" – Chikwe Ihekweazu
Chikwe believes in Evidence
Another major success factor that has been instrumental in the ongoing response to COVID-19 in Nigeria is the introduction of Surveillance Outbreak Response Management and Analysis System (SORMAS); which solved the problem of case reporting faced by Chikwe when he was first appointed as NCDC boss and provided an open access to real time data for decision making.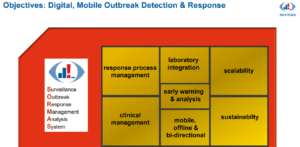 "One of our biggest responsibilities is informing the public about the work that we do and the need to work together" – Chikwe Ihekweazu
Building the people
Chikwe is an advocate of capacity development. To him, equipment cannot function without the people. That is while NCDC is constantly rolling out trainings for staff and also supporting trainings like the Field Epidemiology training programme, among others to train and prepare health workers for outbreaks.
"You can buy equipment but you need to train people, build confidence, get the specimens into the laboratory and get the results out. It is about building a system, which is a work we are doing every day" – Chikwe Ihekweazu
A dependable Team
Chikwe and NCDC has received support from the Federal Government, Partners, Consultants, Volunteers and Core NCDC Staff; who mostly work round the clock to ensure the health security of Nigerians.
Improved Infrastructures
The network of Laboratory with facilities of testing not just COVID-19 but other endemic infectious diseases has drastically improved during the past few years under the leadership of Chikwe.