African countries have been tagged 'third world nations' due to underperforming conditions in various fields of life. Although the term does not apply to Africa alone, it is also used to describe other developing countries on other continents such as in Asia, Latin America, and Australia. The term might be derogatory, but certain individuals from these parts of the world have chosen to rise above such mentality. They have proven that where you find yourself doesn't necessarily define you. In this article, we will look at 5 amazing inventions by African kids.
5 Amazing Inventions by African Kids
1. Hydraulics-powered toys by Odo Gerald
Gerald Odo is a young Nigerian and his invention 'Hydraulics-powered toys' is among  the amazing inventions by African kids. Since age 15, he started experimenting with hydraulics technology which involves the application of science, using the combination of engineering, chemistry and physics that involves the mechanical properties and use of liquids to ensure movement. Among the toys he has made which are all powered by hydraulics are: a helicopter, an excavator and a dump truck.
During an exhibition at Maker Faire Africa, Gerald displayed his invention which was made out of plywood, tubes, syringes, water and motorcycle batteries that powered them.
A Radio Station by a 15-year-old Kelvin Doe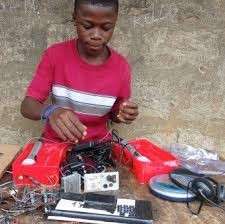 Kelvin Doe comes second on our list of 5 amazing inventions by African kids. Before he invented a radio station at age 15, the Sierra Leonean, at the age of 13, made significant contributions to his community. An outstanding contribution was the electric generators he invented from metallic scraps and other electrical spare parts.
Kelvin's goal to become the youngest visiting practitioner at the age of 16 in MIT prompted him to invent a radio station when he was just 15 years old. He broadcasted news and also dished out music to entertain his community like a typical dj with the allies DJ Focus.
The Blue Wind Fan by Michael Ukoma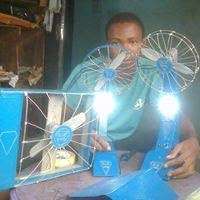 Michael Ukoma is a young Nigerian who was uncomfortable with the unusual heat that plagued his community. It is a well known fact that electricity is unstable in Nigeria. The young Michael took it upon himself to invent a fan that is powered by batteries in 2016. He named his invention the Blue wind fan which he made out of cartons and aluminum wires. When the battery is fully charged, the fan can last up to 19 hours.
Wind Turbine Invented by William Kamkwamba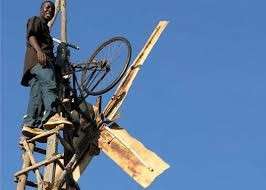 This invention by a young African named William Kamkwambe from Malawi got a lot of attention which later inspired a biopic that got him the allias- the boy who harnessed the wind. His intention was to power various electrical appliances in his family house in Wimbe. To the amazement of all, he made the Wind Turbine out of blue gum trees, bicycle parts and other scraps he gathered from a local junk yard.
A Generator Powered by Urine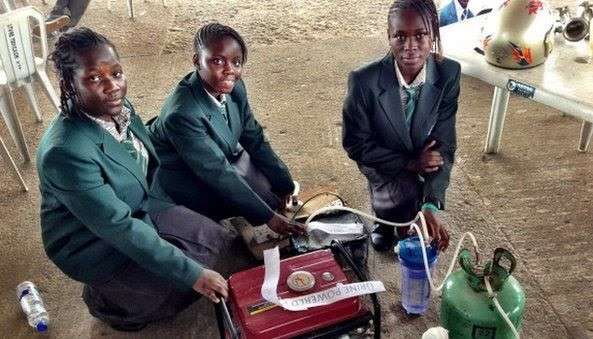 The urine-powered generator was invented by 4 young African girls: Bello Eniola, Duro-Aina Adebola, Faleke Oluwatoyin and Akindele Abiola all from Nigeria. This amazing invention is said to supply up to 6 hours electricity from a litre of urine. This genius invention caters to the problem of waste management which is converted to an alternative means of providing energy.
Final Thoughts on Amazing Inventions by African Kids
Africa is blessed with amazing kids whose eyes readily detect problems and whose minds think solutions which are created from unfathomable waste materials at their disposal. But it is unfortunate that such talents are not always appreciated at home but are rather welcome abroad provided the news make headlines.